Sound Fatherly Advice Leads to Success
Case Study: Mark Davenport - Admiral Scaffolding Group
Around twenty years ago, Mark Davenport's father gave him some simple but important advice when he was offered a job as a trainee scaffolder. He told him to stay safe and also to care for the safety of others. It's advice he has followed ever since.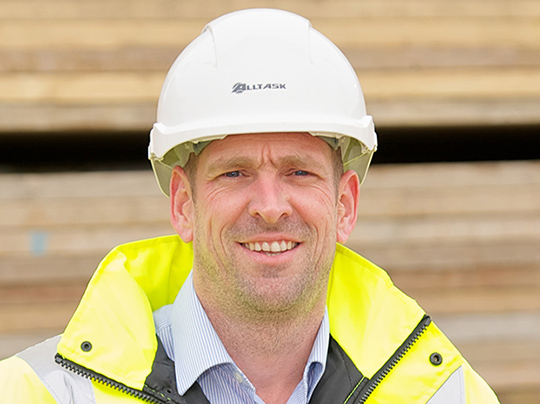 When he left school, Mark actually started out as a trainee chef, but the hours and culture didn't suit. The only time he got to socialise was on a Tuesday night and he missed going out with his friends. So when he was told about a job in scaffolding, he thought he would give it a try. He loved it right from the start.
In fact, one of Mark's first jobs was working on the construction of an oil refinery in the South East. The scaffolding was over 300 feet high. Mark has no real fear of heights, quite the opposite in fact, but what he enjoyed most was the camaraderie on site. He got on with everyone he worked with, having a laugh but at the same time never being afraid to speak up when he believed peoples safety was being compromised.
"It's something I've always done," he explained. "I don't mind challenging people. I've worked for many years on site and there's not much I haven't seen. I think that's one of the reasons I ended up with a health and safety role. As everyone says on site now, 'there's nothing you can get past Mark'."
A few years ago he was asked to become a health and safety advisor by his employer. His experience was a huge advantage, but Mark wanted to make sure his knowledge was up to scratch. So he took the NEBOSH National General Certificate in Occupational Health and Safety.
"To be honest I'd never been academically minded at school, so I found the General Certificate quite tough. But once I got into it I managed to pass just short of a distinction, which I was really pleased with."
Mark says the NEBOSH General Certificate gave him a platform to progress from. He chose to take the specialist NEBOSH National Certificate in Construction Health and Safety. As Mark had earlier passed his NEBOSH National General Certificate, he needed to only take units 2 & 3 of this qualification covering the management and control of hazards in construction and the practical application.
Mark says that having his NEBOSH qualifications gives him the ability to present a case for safety policy and improvements at management and board level.
"When I go to directors and explain the reasons for doing something, they understand now that it's not just Mark saying 'you need to do this' but that I'm actually protecting them, because it's competent advice and often it's the law."
The ability to communicate at all levels is a vital skill for any health and safety practitioner. Mark's on site experience and people skills, coupled with the structured technical knowledge he has gained through his qualifications has pushed him on to his current position of Health and Safety Manager at Admiral Scaffolding Group.
His employer values his qualifications, not least because it helps them to meet recognised standards, best practice and even win new business.
Mark wants to go on and take his NEBOSH Diploma. He has a dream of one day running his own independent health and safety consultancy within construction and feels a Diploma is "essential" if he is to turn his dream into reality.
Good luck Mark, we think you've got what it takes.
How has your NEBOSH qualification helped you? Email us with your story: marketing@nebosh.org.uk.