Managing safety on a ship like no other
Case Study: Darren Culshaw - The Royal Yacht Britannia
For 44 years the Royal Yacht Britannia served the British Royal Family. It travelled over one million miles around the world and was the venue for glittering state visits, official receptions, Royal honeymoons and luxurious vacations.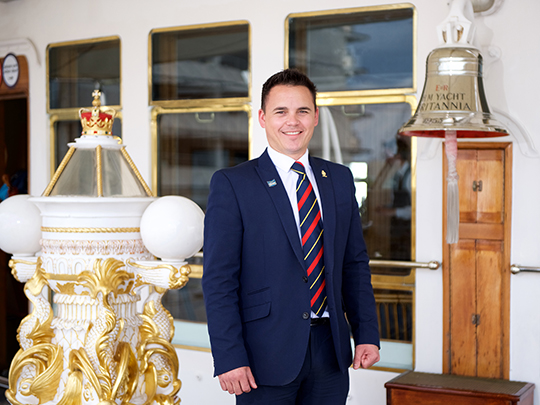 Britannia is now permanently berthed in Edinburgh and has officially been Scotland's best visitor attraction for the last 12 years. Now owned by The Royal Yacht Britannia Trust, a registered charity, Britannia has become "a ship like no other," giving tourists a fascinating insight into Royal life on board, while also serving as an exclusive evening events venue.
For Darren Culshaw, Britannia's Health, Safety and Security Manager, the yacht presents a whole host of fascinating challenges. With his naval background, Darren is ideally suited to the role and not just because he is familiar with ocean-going vessels. After leaving the Royal Navy in 2008, his civilian career began on Britannia as a Maintenance Engineer, carrying out daily preventative maintenance, safety inspections and also serving as a first aider as part of his role.
"Safety has always been part of what I do," Darren told us. "My passion for safety was recognised here and I was initially asked to support the then Health and Safety Manager for a short time. After that I took my NEBOSH Certificate in Environmental Management and NEBOSH National General Certificate in Occupational Health and Safety and was almost immediately promoted to become a full time health and safety advisor."
Darren's talent shone through and it was decided he should enrol on the NEBOSH National Diploma in Occupational Health and Safety course. He told us it was tough at first and while this was a big step up from the NEBOSH General Certificate, it was a fantastic learning curve and experience.
"It all came at a time when I really wanted to expand my knowledge and apply the things I was learning. So I would study and be involved in interesting classroom discussions around a topic one day, and then I'd be updating a policy or procedure around that same subject the next day. It was invaluable to my development and at the same time doing the practical side of things really helped me to get through it all and succeed."
Darren admits that it was his desire for career progression which motivated him to do the NEBOSH Certificates and Diploma back to back. The move certainly paid off. After completing the Diploma he was promoted to the position of Health and Safety Manager. However, NEBOSH means so much more to Darren than simply qualifications on his CV.
"There's no way I would have the knowledge or confidence to deliver what I have done in recent years, without NEBOSH. Every time I returned to work after studying I felt inspired to take on more and the Diploma took me to the next level. That's why I went on to it so quickly after the General and Environmental Certificate. I wanted to become a professional. For me the NEBOSH Diploma is the recognised qualification of a safety professional."
Darren finds his NEBOSH studies regularly help him at work. For example, Darren used the knowledge and materials from the Environmental Certificate to take the lead during Britannia's Green Tourism Business Scheme Audit in 2017, securing a Gold Award and the highest score possible in the process.
Darren told us his role at Britannia is fascinating and rewarding in all kinds of ways. "From a health and safety perspective, it involves managing a broader range of risks than you might expect, from working at height, hazardous chemicals, crane lifts, welding, contractors to even a classic racing yacht team, which heads off for private charter each summer."
"It really is a ship like no other and thanks to NEBOSH I have the professional know-how to take on any kind of challenge in this incredible, historic and significant environment."
---