Loyalty rewarded with new career in health and safety
Case Study: Michael Morgan - Komatsu
When you've worked at the same place for over 30 years it's not easy moving on to something new.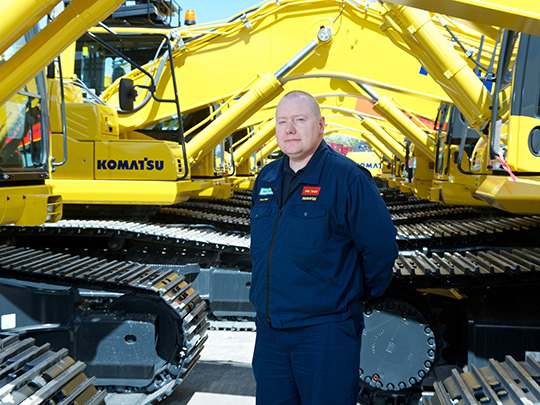 Michael Morgan, 47, is a loyal employee. He has worked at the Komatsu UK Limited manufacturing plant in the North East of England since 1988, where 20 to 80 tonne excavators are manufactured for the European market. Michael joined as an apprentice straight from school and after rotating between three different manufacturing departments, settled in assembly. "As a kid I'd always enjoyed taking things to pieces and putting them back together again, so assembly appealed to me straight away."
His enjoyment of his role is not the only reason Michael has been loyal to Komatsu. "They're a great company," he said. "Having been here for such a long time I've been through both the good times and the bad times. When the markets collapsed around ten years ago, Komatsu kept its core workforce and used the time for training and supporting community-based projects. This kept everyone busy and in employment, so when the market started to grow again, we were ready to respond."
Over the span of 25 years he spent time working in almost every different area of manufacturing and later took on the role of a company health and safety representative within his area of operation.
"The company put me through various training courses, and I started working full time on health and safety for the assembly departmentwhen we revamped some of our safety management systems, helping to put everything into place. Then around five years ago I started thinking about moving away from assembly. I'd grown more and more interested in health and safety and had been doing risk assessments, lifting plans, COSHH assessments and other proactive activities. I really wanted to change direction, but of course I also wanted to stay with Komatsu. It struck me that you can't really do anything in health and safety without a NEBOSH qualification, so that became my starting point."
Michael spoke to his supervisor at an annual performance review about doing the NEBOSH National General Certificate in Occupational Health and Safety and asked if Komatsu would support him in his studies. It was taken to management and they agreed. Michael passed and almost immediately a position opened up working for the Senior Health and Safety Officer as a Health and Safety Administrator.
"Before I did my NEBOSH Certificate I felt I knew quite a lot about workplace hazards. What I didn't know a lot about, if I'm brutally honest, was the law. The course really strengthened my all-round knowledge and gave me confidence in my new position."
Michael hasn't looked back since. He really enjoys his health and safety role within Komatsu. "No two days are the same, which is nice for me as you can imagine. We have around 500 employees and around 150 permanent contractors on a site as big as Wembley stadium, so it's always interesting."
A recent highlight was travelling to Komatsu City in Japan, to the company's state of the art plant and training facility. "We had introduced an internet-based health and safety management system locally and so we had the opportunity to present to all the Company Global Health and Safety Managers. Having worked for a Japanese company for so long it was great to travel to Japan and see the culture first-hand. It's something I would never have got to do if I hadn't moved into health and safety."
"In the next couple of years I'm potentially looking to start studying for the Diploma, because I think that's the next level. You can't stay still."
Paul Storey, Senior Health and Safety Officer at Komatsu, who holds a NEBOSH Diploma and who travelled to Japan with Michael to present, commented: "For me a NEBOSH qualification represents a high standard of health and safety knowledge that everybody recognises. Michael having the NEBOSH General Certificate, combined with the experience he has from such a length of service here, has been a massive help to us. It's great to see him doing so well."
National General Certificate in Occupational Health and Safety