Looking for a great career? 'Take your NEBOSH'
Case Study: Rhys Nicholas & Joe Sissons - CBRE Shirley Parsons
When your best friend is struggling to get on to any kind of fulfilling career path with excellent long-term prospects, there is only one piece of advice to give them, according to Joe Sissons: "Take your NEBOSH!"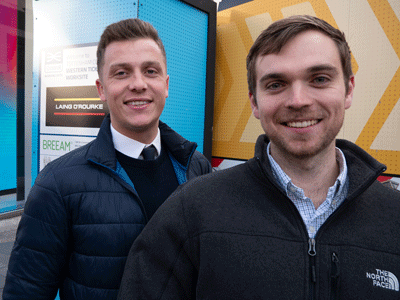 That was exactly the guidance Joe, 24, gave his old school chum and best friend Rhys Nicholas on New Year's Eve, 2016. The pair were in Edinburgh for the festivities and Rhys confessed at the time how he was finding it difficult to secure the kind of work he was looking for.
Joe and Rhys not only grew up in the same street and went to school together in a small town in South Wales, but they also went to Cardiff Metropolitan University at the same time. Joe took a marketing degree, while Rhys studied business. Rhys' father had his own construction firm and so Rhys had developed quite an affinity with the industry, even though he wasn't too keen on working "on the tools". He saw his international business degree as a possible avenue into a career in construction, but it wasn't really working out.
By coincidence, Joe had found a job in the South East of England, not in construction, but working for a global leader in HSEQ recruitment, search and staffing, Shirley Parsons. It acts as career agents to HSEQ professionals and partners organisations looking to attract the best HSEQ talent. Joe's main area of focus turned out to be construction, and he soon learned that a NEBOSH qualification usually held the key to finding people a role.
"It's just what every client asks for," said Joe. "Yes, we have other equivalent qualifications, but generally on a job spec it is NEBOSH."
Naturally Joe put two and two together while he and Rhys were seeing in the New Year. "I told him 'you need to do your NEBOSH' and the rest, as they say, is history!"
Rhys followed Joe's advice, took the NEBOSH National Certificate in Construction Health and Safety, and very soon landed his first position in the industry as a health and safety trainee at global engineering and construction enterprise Laing O'Rourke. During his time with this company Rhys worked on London's high-profile infrastructure project Crossrail, which is constructing the new Elizabeth Line, stretching more than 60 miles from Reading to Heathrow.
"It was a fantastic opportunity and one I would never have got if I hadn't followed Joe's advice," said Rhys. "NEBOSH was the first thing they asked me about at the interview and it almost felt straightaway like 'you're in'.
Health and Safety Manager Gary Elis was Rhys's line manager at Laing O'Rourke. He told us: "What's really good about recruiting someone with a NEBOSH qualification is that you know you have someone coming on site who already understands the concepts of health and safety. Now it's just a matter of Rhys taking that knowledge and growing with it."
Rhys's investment in his own development has certainly paid off as he has already took a step up the career ladder, recently securing a new role as Assistant H&S Manager for CBRE. His new position is allowing Rhys to gain valuable practical experience by completing site audits of multiple construction sites on Wembley Park where he is based.
Rhys explained: "I'm now hoping to get a couple of years' safety practice under my belt and then my plan is to then take my NEBOSH Diploma."
Joe is delighted to see how things have worked out for his friend. He told us: "Health and safety is a fantastic career and I really don't know why more young people don't take up the opportunity. With someone like Rhys, contractors can shape him into the kind of health and safety practitioner they want. He's a sponge really and I think it's sad we don't see enough of it in the industry."
Rhys agrees. He suspects there may be a stigma around health and safety that puts people off. "It's that clipboard perception, but it makes no sense when you're in it. It's hugely varied, massively interesting and the remuneration and prospects are brilliant."
*Jobs search conducted on SHP4Jobs on 22 January 2019