Like father, like son!
Case Study: Jhomar Bonus, Quality Compliance Manager (IMS) at S.A. TALKE
NEBOSH spoke to Jhomar Bonus, Quality Compliance Manager (IMS) at S.A. TALKE in Saudi Arabia about his career and his motivation for taking the NEBOSH International General Certificate.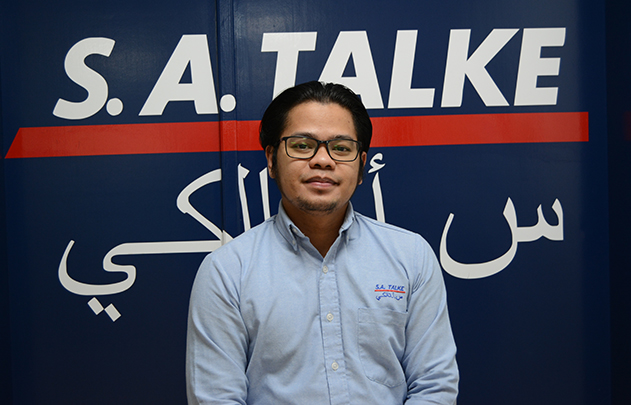 You chose to study Industrial Technology at university in the Philippines, but I can see that soon after graduating, you began working in H&S. What prompted this decision?
My father was a big influence on my decision to pursue a career in health and safety. He has been part of the profession for as long as I can remember and has worked here in Saudi Arabia for almost 15 years.
From our conversations throughout my childhood, it was clear that health and safety had been a rewarding career for him. Whenever he came back to the Philippines on vacation, I would hear him speaking passionately or brainstorming solutions to health and safety challenges with colleagues.
When I was completing my BSc Industrial Technology degree, my father sent me books about construction safety and my interest in the topic grew.
The achievements of my father and other relatives working in the field of health and safety persuaded me that I should follow in their footsteps I suppose.
In 2012 you moved from the Philippines to Saudi Arabia. Was this for a role and can you tell us how this came about?
In 2011 I secured my first HSE role in the construction industry in the Philippines. To help me get started I completed the OSHA 10 and 30 hour construction safety training course at that time. I found I really enjoyed my job and decided that health and safety was what I wanted to do long-term.
My father was hopeful I would be able to join him at his company in Saudi Arabia, but unfortunately, I was unable to secure the required visa whilst the vacancy was open. I didn't give up and kept searching on work abroad agency websites. In 2012, I was appointed to a HSEQ Officer role with a Saudi Arabian supply base company providing logistics and maintenance services to the offshore industry. At the time, the company was newly established which meant I had the opportunity, as a pioneer safety officer, to contribute to the development of its management system (QHSE/IMS). This was challenging but rewarding journey at the same time and confirmed I needed to keep learning and discovering more about health and safety. I did self-study and started to use my connections to gain more knowledge. I constantly look at my knowledge to identify strengths and weaknesses and worked hard to improve my capabilities.
Shortly after moving to Saudi Arabia, you completed the NEBOSH International General Certificate. Why did you choose it?
The OSHA qualification I had gained previously was focussed on technical safety for construction. When I was contributing to the development of the management system, I felt I would benefit from taking a qualification with a broader focus. After doing my research, I decided that the NEBOSH International General Certificate would give me what I was looking for. Its clear popularity in the Middle East was a bonus for me. I self-funded the evening class course myself.
How did you find it?
I found the course to be very informative. As the course progressed, I was gaining knowledge that I knew no-one could take from me. My confidence grew and I knew the learning I gained through my IGC studies would help me to move forward in my career journey.
What were your favourite part of the course?
The topics I enjoyed and found most useful were management systems, controlling workplace hazards and identifying the root causes of an incident. I also gained practical skills including how to produce persuasive management reports for business leaders. After completing my IGC studies I am more confident when dealing with the day to day challenges I face in the workplace. I believe this qualification has given me a strong foundation for my health and safety career.
You seem to have held health and safety positions in a range of industries. Did you find it easy to transition between sectors and what were the key points of difference/challenges?
Most of my experience has been gained in logistics, but when changing roles, it is important to take what you have learnt from one into the next. In all industries the challenging part is maintaining compliance with the applicable legislation. The existence and application of a health and safety management system helps us keep on the right track and move forward.
What do you enjoy most about working in health and safety?
I enjoy developing management systems and monitoring performance. I also enjoy providing safety training and coaching and using my influencing skills to improve the safety culture in my organisation.
What are your long-term career aspirations?
I would love to secure a senior health and safety management position either in the public or private sector. With this long-term aspiration in mind, I work hard every day to enhance my skills, knowledge, and experience.
What is next for you in terms of your personal development?
I would like to build on my IGC and aspire to take the NEBOSH International Diploma or a Degree in Health and Safety. I believe that this will further support my career progression.
When I look at my career and all I have achieved, I am glad that my father's experience encouraged me to follow in his footsteps. Health and safety is such a rewarding career that allows you to make a difference every day!