Leading the way with NEBOSH down-under
Case Study: Ian Frame - Serco Global Services
Several years ago Ian Frame was asked by a colleague what qualifications he had to go with his role as an offshore safety training officer. He recalls feeling "almost embarrassed" by the question, because at the time he had no "piece of paper" to match his level of experience.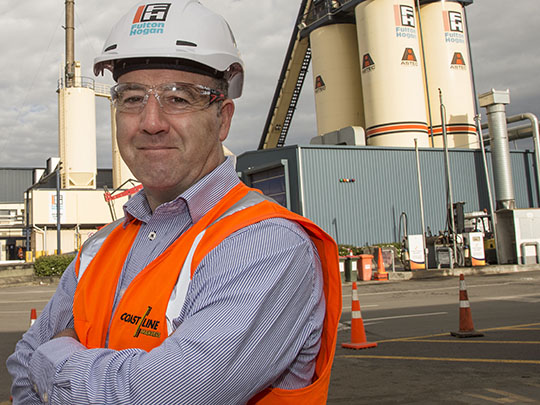 Ian, a proud Scotsman, had worked on oil rigs since before the time of the Piper Alpha disaster in 1988, mainly on the drilling side of operations. The disaster, which killed 167 North Sea oil workers, had a significant impact on safety attitudes within the industry and Ian, who had always been deeply concerned about the welfare of his fellow crew members, found himself drawn into the whole area of health and safety.
"Way back when I first got a chance at health and safety on the rigs, there was no real push for qualifications. They just knew I had the experience, as I had worked all over a rig and knew what to look out for so I'd never really considered taking any qualifications."
It was only when global oil prices began to fall in 2014 that Ian really began to change his mind about becoming qualified. "I'd see high earning guys around me losing their jobs, and despite them having managed multiple rigs and offshore builds, many struggled to get a job in the industry because they had nothing against their name. So I guess, as I entered my fifties, I kind of finally saw the light and realised if I ever wanted to work anywhere else; holding a NEBOSH qualification would help."
Fast forward to 2017 and Ian now proudly holds four NEBOSH qualifications - the International General, Fire, Construction and Environmental Management Certificates. He found himself in a completely different role and in a totally different part of the world, working as a Health, Safety, Quality and Environmental (HSQE) Manager for infrastructure developers, Fulton Hogan Ltd in New Zealand. He now works as a Health Safety Environment and Wellbeing Professional at Auckland South Correctional Facility.
"I love the job, the people and the beautiful scenery here in New Zealand and I think I'll be staying," Ian told us. "Its a land of opportunity right now and being NEBOSH-qualified is certainly one of the big reasons I'm now working here."
"Companies in New Zealand, understand the significance of health and safety and seek to employ competent people. NEBOSH qualifications are desirable for many companies recruiting here."
"No matter how long you have done health and safety, there is always stuff you don't know about. NEBOSH kind of pulls it all together and as a safety professional, you really need that bigger picture."
Ian is proud of his NEBOSH success and described receiving,news that he'd passed as "the best feeling in the world." The information and skills the NEBOSH courses provided have proven to be invaluable to his day-to-day job as Ian still refers to his previous NEBOSH notes to assist him with report writing.
Now when he's asked what qualifications he has to back up his position, he proudly highlights his NEBOSH qualifications; which perfectly compliment his experience gained on the rigs and in construction.
Well done Ian.
How has your NEBOSH qualification helped you? Email us with your story: marketing@nebosh.org.uk.