Leading by example!
Case Study: John Thomson
In our latest interview, we spoke to John Thomson, Managing Director at C Facilities Support Limited (CFS) about his health and safety responsibilities and his motivation for taking the NEBOSH Construction Certificate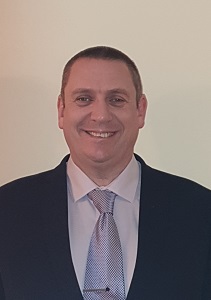 John, you have been Managing Director of CFS since 2014. Can you tell us about your company?
CFS is a SME based in the North West of the UK. We offer tailored facilities management services along with full turn-key project management, which includes the health and safety element of CDM notifiable projects.
My team's skills are utilised by several industries and in the built environment. Our clients include blue chip automotive companies who we have supported on a range of projects including office refurbishments and full machine installations and removals. In the built environment, projects have included the installation of passive fire systems such as fire doors and compartmentalisation in care homes.
As an SME, we are proud of the fact that we have achieved the following accreditations and memberships:
ISO 9001, ISO 14001 and ISO 45001
Member of the Institute of Workplace Facilities Management
Affiliated Member of Chartered Institute of Wastes Management
Member of Constructionline.
Accredited to the Rail Industry Supplier Qualification Scheme
Premier members of Contractors Health and Safety Assessment Scheme.
As the Managing Director of the company, what are your main responsibilities generally and specifically in relation to Health and Safety?
In my role I need to keep my team, customers, and visitors safe and well. I do this by building up our in-house expertise and supplementing this with external support from our Health and Safety Consultant and Learning Provider when it is needed.
I make sure everyone understands the company health and safety policy, which is reviewed regularly to maintain its relevance.
To ensure that we do what we say in the policy, we conduct regular internal audits and are also audited by an external body under ISO 45001.
Last year we conducted a skill set gap analysis with our workforce, which considered health and safety. We used this to develop a company-wide training plan which included in-house training and external courses and qualifications.
I understand that you recently completed the NEBOSH Construction Certificate. Why did you choose to take this qualification and how did you find the course?
I had done an introductory health and safety qualification and the SMSTS course previously and had identified that the NEBOSH Construction Certificate was the natural next step for me. Last year I decided to stop thinking about taking the qualification and to just do it! This demonstrated my personal commitment to raising skills and competence and showed my team that I was not asking them to do anything that I was not prepared to do myself.
The course content was delivered clearly by my Learning Partner, who used relatable case studies to help me learn. I enjoyed the course and looked forward to each session. Not only did my knowledge build every time, but it also allowed me to network with like-minded individuals. The support we received to prepare for the assessment was amazing and this was reflected in the success rates achieved by my classmates.
How has the qualifications benefited you personally?
I gained a deeper understanding of the key health and safety issues that must be considered by the construction industry every day. This helps me more effectively fulfil my duties as Managing Director. Keeping my team safe and well is a top priority and I believe the knowledge I gained from this qualification will help me do this.
I have already recommended this qualification to others because it really opens your eyes to what matters within this industry.
How will completing the qualification help the company?
As a company we have a continual improvement ethos and regularly review our processes, with the support of our external Health and Safety Consultant. I believe that this qualification, when combined with my experience, will enrich the contribution I can make to this process, which can only help us improve our practices and safety culture.
It is great to see a Managing Director demonstrating their commitment to continued professional development and health and safety in this way. Are these important considerations within CFS?
It is important to me as the Managing Director of our company that I lead by example. I am encouraging my team to improve their skill set so it is important that I do the same.
By taking the NEBOSH Construction Certificate I demonstrated to my team the importance I place on both health and safety and learning and development.
I can see you have had an amazingly varied career with a wide experience (Building Services, Manufacturing, Product Quality, Customer Services and Project Management) in a wide variety of sectors (Petrochemical, Pharmaceutical, local authority, FMCG and Aviation). Has this wide experience helped you in your current role?
Definitely. Prior to my appointment as Managing Director of CFS, I was a freelance consultant for 13 years. The people I met and the experiences I have gained along the way has made me what I am today. I find I often utilise past experiences to inform how I tackle new challenges.
What do you think have been the critical success factors for your career?
Discipline - This was instilled in me by my mother and late father.
Having a plan B - I was going to follow my father into the Police, but he told me to get a trade first. He wanted me to always have something I could rely upon if another path did not work out. I took this advice and completed a 4 year electrical apprenticeship.
Being mentored by great people - During my apprenticeship and throughout my career I have been fortunate that experts have shared their knowledge and expertise with me. This has really helped me to build competence which accelerated my progression. I recommend identifying mentors who can help you achieve your goals.
Building my network – this is so important in business. I have some great connections who have supported and encouraged me. Its great to be able to talk through challenges and get a second opinion.
Invest in yourself! – In my opinion, the best investment you can make is the investment you make in yourself.
What advice would you give to others who aspire to achieve similar success?
Do not let anyone stand in the way of you achieving your goals. You may need to sometimes move to the side to move on from the glass ceiling but just keep driving on.
I would also say that you should never stop developing and learning from best practice in your own and other industries.
What's next for you personally?
I have recently been accepted by the Energy Managers Association as an affiliate member. I plan to enrol on a few of its distance learning courses to build my technical experience and knowledge in this area.
I am currently an affiliate member of IOSH and will work towards TechIOSH.
After this, I am not too sure, but no doubt I will keep driving forward and will look for more opportunities to keep developing.
---
How has your NEBOSH qualification helped you? Email us with your story: marketing@nebosh.org.uk.