Looking Ahead Pays Dividends
Case Study: Kevin Marley - Acacia Facilities Management
Foresight is important because it helps us prepare for change. Two years ago, Kevin Marley began to see how things were changing in his chosen profession, so he made a move that's already paid off in a way he couldn't have quite imagined.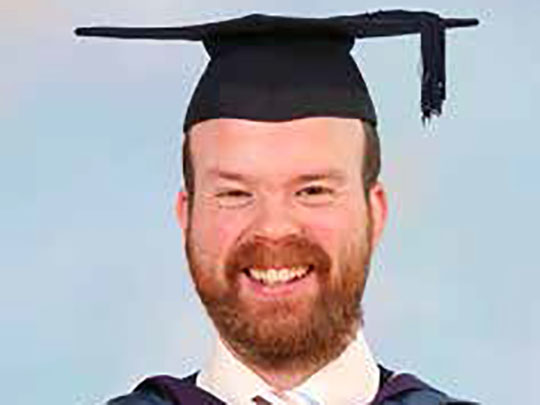 Kevin, who is from Dundalk in Ireland, has a Masters Degree in Environmental Science. With that he has carved out a successful career in environmental management, working for Acacia Facilities Management. Acacia is an outsourced provider to a major technology company based in Ireland, delivering on various aspects of management, including environmental management.
The environmental risks on the technology park where Kevin works are complex and he finds his role varied and rewarding. He enjoys applying the knowledge he's worked hard to gain and is key to the environmental management system that's in place there.
However, a few years ago Kevin began to realise that responsibility for environmental management was often being combined with health and safety. With this foresight he decided to extend his qualifications and embarked on the NEBOSH International Diploma in Occupational Health and Safety.
A Masters in Environmental Science is hardly a straightforward qualification, so we can forgive Kevin for initially expecting the NEBOSH International Diploma would be "a bit easy" in comparison.
"In fact, not at all," he told us. "There is an awful lot of work required, so I have to say I found it difficult in that sense, but an excellent quality of qualification and an excellent grounding in health and safety. It really is as good as an honours degree from a university."
Kevin also enjoyed the international aspect of the Diploma. "One of the limitations of a qualification from a university can be that the legislation it's based on is from a particular country the most part and you don't get an introduction to the international bodies, such as the International Labour Organization," he said.
The timing of the qualification was perfect for Kevin. He passed just as his employers decided to extend his responsibilities to include a review of all health and safety risk assessments and method statements on site, including for work carried out by other contractors.
"I use what I learned from the Diploma every day now," said Kevin. "That's the beauty of the qualification. It is so practically based, particularly because of the Unit ID element. Applying the knowledge from the first three units is definitely when it all came together for me."
Kevin was recently awarded joint best candidate for the NEBOSH International Diploma mark in 2012/13 at the NEBOSH Graduation Ceremony. He believes his educational background played a part in this, but he thinks a lot was also down to the support of his tutor, Finbar Stapleton from SQT and his study partner who like Kevin gained a distinction.
He thoroughly enjoyed the Graduation event. "The day was excellent, extremely well run and the best graduation event I've ever been at. Myself and my mother, who also attended, were treated extremely courteously and the staff were really friendly and helpful, it was just amazing."
Congratulations on your award and qualification Kevin and good luck for the future.
How has your NEBOSH qualification helped you? Email us with your story: marketing@nebosh.org.uk.