From "not so keen" to running the show!
Case Study: Keith Mattock - Matsuura Machinery Ltd
Keith Mattock admits to "not being particularly keen" when his employers Matsuura Machinery Ltd first suggested he take a NEBOSH National General Certificate in Occupational Health and Safety three years ago. Keith was working as an Applications Manager at the time, providing technical service and sales support to colleagues and customers. Little did he realise the impact passing the qualification would have on his career.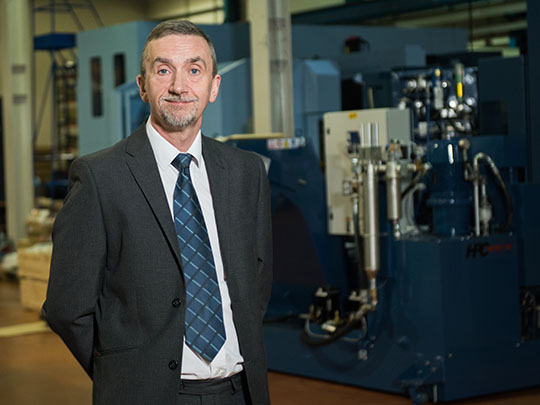 Matsuura customise highly technical large machine tools that are manufactured by their Japanese owners. These complex machine tools can range in value from around £100,000 in to the multi millions. The company is very proud of the quality of its specialist products and differentiates itself on the strength of its products, strong customer service, support and training.
When Keith was encouraged to take the NEBOSH National General Certificate in Occupational Health and Safety by Matsuura Machinery Ltd; he wasn't alone. He gained the qualification because of a company-wide drive; which aimed to improve the overall health and safety knowledge and skills of employees.
"Our Managing Director, Roger Howkins, was pretty determined to bring about a cultural change here," explained Keith. "There were two drivers which supported the focus health and safety now has here. There is keeping people safe while they are working, but also our customers really appreciate it when we have the right systems and processes in place."
To say the campaign has been successful is an understatement. Over the past three years one third of Matsuura Machinery Ltd's workforce has gained the NEBOSH National General Certificate in Occupational Health and Safety.
The importance of health and safety continues to rise in the company. Earlier this year the decision was taken to elevate the HSE Manager's position to that of a senior management role. All of its managers who had achieved the NEBOSH National General Certificate in Occupational Health and Safety could apply.
Having worked for the company for almost 14 years, Keith has expert knowledge of almost all processes at Matsuura from both an employee and customer perspective. This knowledge, coupled with the fact that he is an experienced trainer, led Keith to be selected as the successful applicant.
He was immediately tasked with supporting the business objective to gain ISO 14001 and OHSAS 18001 to add to the ISO 9001 accreditation he had helped the company gain earlier in the year. Within months of Keith's appointment Matsuura Machinery Ltd had achieved accreditation to ISO 14001 and he already has his sights set on OHSAS 18001 planned for 2016.
It's now part of Keith's role to encourage others at Matsuura Machinery Ltd to take their NEBOSH National General Certificate in Occupational Health and Safety.
"As well as keeping people safe and the wider business benefits, health and safety is now a key part of career development here as well," said Keith. "We're fortunate now to have so many employees who are NEBOSH qualified. They understand health and safety and their responsibilities better as a result; which certainly makes my job easier!"
Keith plans to continue with his own NEBOSH studies too. He has his sights set on both the NEBOSH National Certificate in Fire Safety and Risk Management and the NEBOSH National Diploma in Occupational Health and Safety.
We wish Keith continued success in both his studies and his new role and commend Matsuura Machinery Ltd for the new approach they have adopted to health and safety.
How has your NEBOSH qualification helped you? Email us with your story: marketing@nebosh.org.uk.