Keeping on top of health and safety best practice is key
Case Study: Martin Brady - Morrison Utility Services
Thirteen years ago Martin Brady started working for Morrison Utility Services after serving 27 years in the Royal Engineers. Since then a lot has changed; he has been promoted several times, relocated from the south-east to the Midlands and now manages a diverse team operating across the country as Operations Manager.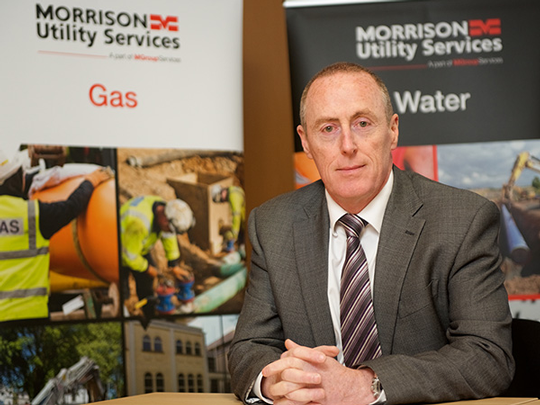 Working for clients in the electricity, gas, water and telecom sectors to renew, refurbish and maintain infrastructure and networks means that Martin has a wide remit. However he says that although he covers a range of activities with different safety issues, the principle of prevention remains the same. "As a manager you have a duty of care to all your employees and also members of the public who come into contact with the company's works, so health and safety is an integral part of what we do."
As Morrison Utility Services has over 4,000 people working in the community on a daily basis, safety is their number one priority. Part of Martin's job is to disseminate and enforce its importance. "I'm responsible for the health and welfare of a multi-skilled workforce. I have a number of managers who assist me in the process of instilling the message that safety is everyone's responsibility. It is a challenge when no two days are the same but I'm very much a people person and like to interact with the workforce. This helps when you have to deliver a safety message to all."
Always keen to learn, when Martin heard that Morrison Utility Services had been accredited to deliver the NEBOSH National Certificate in Construction Health and Safety he jumped at the opportunity to enrol. He had already seen how NEBOSH qualifications had benefitted the company's SHEQ team and thought that signing up was a no-brainer. "I've always been aware of NEBOSH qualifications so when I had the chance to take one there was no hesitation. Even after one day on the course I found myself using my new knowledge in the everyday management of my team." explained Martin.
"I can also now provide the background and reasoning behind the company's health and safety policies. I think it's important to understand and communicate the logic behind the rules to get better buy-in from everyone who has to follow them."
Due to the nature of their work, the teams Martin manages constantly move from site to site, meaning that the risks they face change all the time. It is his job to make sure that everyone is clear about their responsibility for health and safety.
"We need everyone to play their part in ensuring the safety and wellbeing of themselves, their colleagues and members of the public affected by our works. We have to put a lot of trust in our workforce since they work remotely in small groups, so the training and briefings all send out a strong message that whatever you do, always take the time to do it safely."
Martin is clear that you can't sit back and relax and assume that once you've done a course, that's it. He recognises that his health and safety experience has grown with him as he has progressed and says that "even in the time I've been in the utility sector I've seen a step change in the way we manage health and safety". He is therefore always looking for opportunities to further advance his knowledge.
With that in mind, Martin has signed up for the NEBOSH HSE Certificate in Process Safety Management, which covers some of the specific hazards Martin's teams face regularly. As Martin told us: "If anyone has the chance to attend a NEBOSH course I would always recommend that they do so; I would be at a loss as to why anyone would not grasp the opportunity because the knowledge gained is invaluable."
National Certificate in Construction Health and Safety
NEBOSH HSE Certificate in Process Safety Management