Scholarship Scheme Proves 'Invaluable' to Important UK Charity
Case Study: Jeanette Potts - Hft
When the HR Director of a major UK charity was given responsibility for health and safety last year, she turned to NEBOSH for the extra knowledge she needed. And thanks to the work of the Charities Safety Group, her qualification didn't cost her employers a single penny...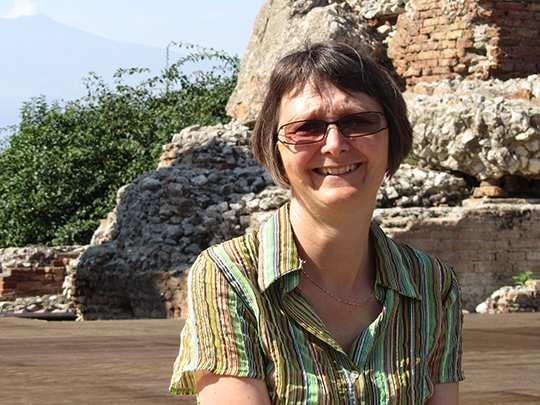 Self Unlimited is a UK charity supporting people with learning disabilities so they can live the kind of lives they want to live. It can help them find a home, a job, meet people and do much more.
Just like any other organisation, Self Unlimited has a duty to manage health and safety, and up until around 12 months ago it had almost exclusively relied on the support of external consultants. However, following an internal review, it was decided that Self Unlimited's HR Director, Jeanette Potts, would take on responsibility for co-ordinating health and safety issues with the support of the existing consultancy.
Jeanette told us that her involvement in health and safety up to then had been "minimal" and she had a large knowledge gap to fill. She had heard of NEBOSH and was aware their qualifications were "widely respected". Following a little research she decided a NEBOSH General Certificate in Occupational Health and Safety would give her the "good general grounding" she needed.
For a charity like Self Unlimited, every penny counts. Any money saved can be put back in to supporting people with learning disabilities. So when Jeanette heard about the Charities Safety Group from NEBOSH, she looked into it further.
The Charities Safety Group is a membership body and support network for people with health and safety responsibilities, but who are not necessarily health and safety specialists - perfect for people like Jeanette. The Group also runs a sponsorship scheme in partnership with NEBOSH, which gives scholarships to Charities and Voluntary Sector organisations to take NEBOSH Certificate courses. NEBOSH waives its fees, and course providers offer their tutorship and guidance free of charge.
"I made an application and was successful," explained Jeanette. "The whole process was extremely smooth and invaluable really, both in terms of the support for making the application and for pointing me in the direction of my course provider OMS. OMS explained what the course would involve and the sort of time commitment that would be needed."
Thanks to her own hard work and OMS' tuition, Jeanette went on to pass her NEBOSH Certificate with distinction, a fantastic achievement given that health and safety was pretty much new to her. The knowledge she has gained has been vital in her role and to Self Unlimited. And since starting this work, Self Unlimited has been through a major change, merging with a similar charity to form a new, bigger organisation now called Hft. The new Hft now supports over 2,500 people with learning disabilities - enabling them to live the lives they choose. The merger has meant that Jeanette's newfound expertise has been invaluable in helping to integrate the two organisations' health and safety systems and processes, as well as managing the existing Self Unlimited contract with the consultants. Most likely this and other steps being taken will help to control costs, meaning more funds for its core work.
Well done Jeanette and well done Self Unlimited – now Hft, for all the important work you do.
To discover more about Hft and Self Unlimited see www.hft.org.uk and to find out more about the Charities Safety Group visit www.csg.org.uk
How has your NEBOSH qualification helped you? Email us with your story: marketing@nebosh.org.uk.