Fortune Favours the Brave
Case Study: James Bird - Kier
James Bird epitomises the famous proverb "fortune favours the brave!" Four years ago his work life was very different to the successful career he now enjoys. At that time he held a temporary position in a steelworks which offered no prospect for progression and he felt undervalued and unfulfilled.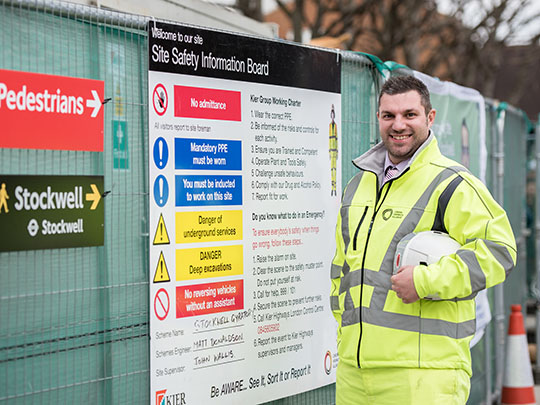 It was at this time that James noticed the positive impact and respect that the health and safety manager at the steelworks could command. James could see that his presence and input were valued by colleagues and he began to think that perhaps this could be the role for him. He spoke to the health and safety manager, who gave him some very simple advice.
"He told me if you want to get into health and safety, go and do the NEBOSH General Certificate in Occupational Health and Safety," James explained. "I listened, did my research and borrowed some money from my mother to sign up for a two week intensive course."
The timing of the course was perfect in many respects as it coincided with a two week shut-down period at the steelworks. However, there was a problem. To complete the final assessment James needed to take an additional two days off but his employer refused to grant this. So he had a difficult choice to make. Either complete the qualification which he hoped would lead to a more fulfilling career or keep his current job! James chose NEBOSH and this brave decision has been rewarded as that's when things started to really turn around for him.
He found another job through an agency in traffic management and because he had achieved his National General Certificate in Occupational Health and Safety, he was selected to complete a Traffic Safety Control Officer (TSCO) course. He also continued his NEBOSH studies and passed three more Certificates in Construction Health and Safety, Fire Safety and Risk Management and Oil and Gas Operational Safety.
This continued NEBOSH success contributed to James's growing confidence and profile, which resulted in him being headhunted by Kier Group. James, who is 31, is now corporate SHE operations manager for Kier Highways, which maintains around a third of the UK's strategic road network. Kier is a key supplier to Highways England, the independent body that operates, maintains and improves England's motorways and major A-roads, and works for many of England's local authorities too. James says he "absolutely loves" his job, because he feels it allows him to make a big difference.
"It's no exaggeration to say that NEBOSH completely changed my life," said James. "It gives you confidence because of the base knowledge it provides. It gives you the skills you need to progress in industry and it gives you a certain level of respect among your peers because NEBOSH is held in such high regard."
More importantly for James, he is now being mentored by several directors at Kier and he feels highly valued by his employers. He also feels he has a fulfilling career with purpose.
James is now taking two NEBOSH Diplomas simultaneously, in Occupational Health and Safety and Environmental Management, plus a Law Degree. Not bad for someone who once thought a NEBOSH Certificate might be beyond his capabilities!
Well done to both James and Kier for recognising his potential and supporting his continuing professional development.
How has your NEBOSH qualification helped you? Email us with your story: marketing@nebosh.org.uk.