One Up On The Other Half
Case Study: Jackie Delap - The Specials Laboratory
There are many good reasons for doing well in your NEBOSH examinations, but getting one up on your other half isn't usually one of them.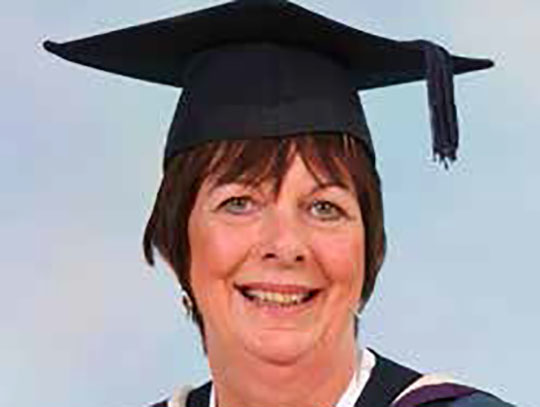 However, that's exactly what Jackie Delap did when she passed her NEBOSH National Diploma in Occupational Health and Safety recently.
Jackie is a Pharmacy Technician and works as a Senior Formulation Development Scientist for The Specials Laboratory in the North East of England. The Specials Laboratory manufacture and supply Unlicensed Medicinal Products specifically designed for individual patients.
As well as her main role, Jackie also leads the COSHH (Control of Substances Hazardous to Health) team and has other Health and Safety responsibilities including the performing of audits, preparation of risk assessments etc. She took her NEBOSH National General Certificate in 2010 because of these additional responsibilities at work, but also because she has a long-standing interest in Health and Safety.
This interest in Health and Safety came about partly because of her husband Trevor. He is a Health and Safety Manager for a local County Council, has around 20 years experience and holds a NEBOSH National Diploma. Like many partners, they would share their experiences at work and Jackie found Trevor's occupation really interesting.
This is why she decided to follow up her NEBOSH National General Certificate with a Diploma. She wanted to do this for herself, and so she embarked on a self-funded distance learning course and threw herself into her studies, with a bit of help from Trevor of course. "It wasn't easy by any stretch of the imagination, but I really enjoyed doing it," said Jackie.
She took her time over her studies, sitting each of the four Diploma units one at a time. So when it came to the practical unit, Unit D: Application of Health and Safety theory and practice, she had all the knowledge under her belt. She completed the practical at her workplace, sat back and then waited for her final results.
When Jackie discovered she had passed her Diploma she was delighted. When she learned she had passed with distinction she was ecstatic. But when she discovered she'd achieved the highest mark of all those taking Unit D in 2012/13 she was completely stunned.
Jackie collected an Award at the 2013 Graduation Ceremony, which she attended with her mother, father, son and husband. "It was a really nice family day out, and my parents especially were proud as punch because I'm an only child," she told us. "The NEBOSH team made us all feel very special throughout the day".
As for Trevor, well Jackie can't help but wind him up a little bit about her award. After all she's a Pharmacy Technician and he's a Health and Safety professional. He takes it well though, because he is also very proud of her achievement.
What's nice is they now have an option when it comes to retirement in a few years time. A small jointly run part-time Health and Safety consultancy would certainly work well for them both. They have different skills and knowledge that complement each other and each has the right qualification of course. Pretty much a perfect partnership.
How has your NEBOSH qualification helped you? Email us with your story: marketing@nebosh.org.uk.