In-house health and safety expertise makes good business sense
Case Study: Balbinder Garcha - Clovemead Ltd
When Balbinder Garcha, or Bal as he is known to his work colleagues, got his very first taste of health and safety at work, his immediate response was "this is something I enjoy" and the rest, as they say, is history.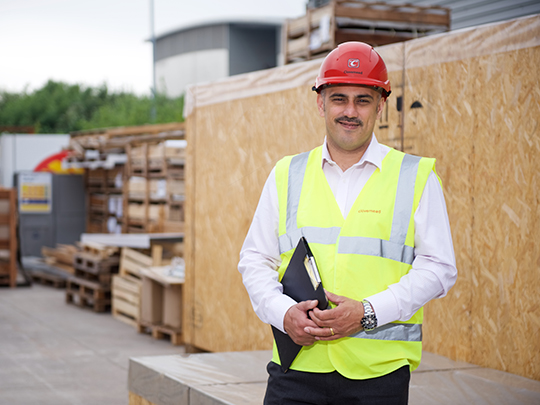 Bal's story is similar to many who end up building a career in health and safety. Bal left school at the age of 16, and went to "work on the tools" doing mechanical and electrical work on construction sites. He got tired of working out in the cold and started looking for management opportunities. His opportunity came in a construction planning role, which also featured a little bit of health and safety, and that was that!
Aged 39 years, Bal decided he wanted to be a health and safety practitioner because he wanted to make a difference. So he did the one thing everyone around him told him he needed to do. Signed up to take the NEBOSH National General Certificate in Occupational Health and Safety.
"I funded it myself at a night class. Once I had gained the qualification I was taken on as a Health and Safety Officer at construction and civil engineering firm Clovemead. For me accepting this offer has proved to be an excellent choice when I think about the support they've given me since with my development."
In particular, Bal highlights the encouragement that the company's joint Managing Directors, Peter Saunders and Graham Holland have shown: "Health and safety is 'first principle' here as demonstrated by the backing I have received for my continued development. Every course I have ever asked them to go on I've had 100% support. There has never been any qualms about any ofit, even though it's been a big commitment from them financially and in terms of time off."
Bal went on to take the NEBOSH National Certificate in Construction Health and Safety, the NEBOSH National Certificate in Fire Safety and Risk Management as well as the NEBOSH National Diploma in Occupational Health and Safety. Asked why his employers had been so supportive of his professional development, Bal says he believes "a lot of it has simply been to do with good business practice and management."
"If you compare the cost of employing a qualified consultant with the cost of training someone up like me to a certain level of professional competence, and then add to that the fact that my knowledge and skills are basically available on tap at the company seven days a week, then that's your answer."
"Throughout my NEBOSH studies I have found that what I was learning in the classroom could be transferred directly onto site. My company and I really valued the immediate practical application that NEBOSH qualifications offer."
"We're also all living in a world of pre-qualification questionnaires (PQQs) now, and it's fair to say we have a lot of high profile clients with high expectations in terms of health and safety standards. They want to see a strong track record of health and safety and they want to feel confident you have the right knowledge for the situations you'll find yourself in. A NEBOSH Diploma it is renowned throughout the world so this can help us win business."
Bal says he draws on what he's learned whilst studying for his NEBOSH qualification's on almost a daily basis. "Look, it's simple. NEBOSH gives you pretty much everything you need to know in this role. It's the difference between being highly effective and scratching your head and thinking so what do I do now."
"My managing directors have actually said to me, it's about time you do another course isn't it? I think if I do continue my studies, it will be an environmental qualification for me next."
We wish Bal every success whatever you choose to do!
How has your NEBOSH qualification helped you? Email us with your story: marketing@nebosh.org.uk.