If at first you don't succeed...
Case Study: Chris Ellison
As anyone who holds a NEBOSH Diploma will tell you, there is an incredible sense of achievement to know you've passed.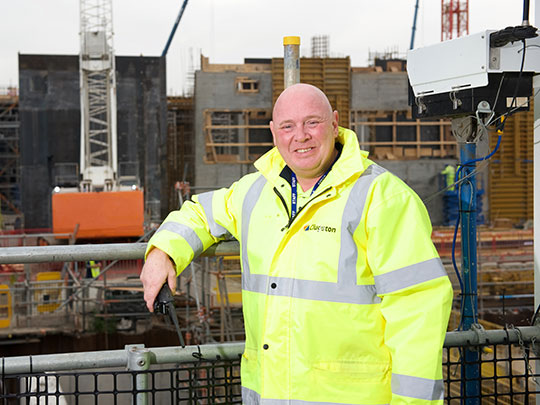 Chris Ellison was even prouder than most because he has dyslexia which means he finds reading and writing more challenging than most. He told us he was determined to demonstrate his credibility as a health and safety professional by passing in his words "the best there is".
Chris, 48, was born and bred in Liverpool. The son of a "big union man" who worked on the railways, Chris was inspired by his father's passion for the welfare of his fellow workers from the moment he entered the world of work.
He had done reasonably well at school but had to "work hard" for his qualifications. After that he went on to work in a range of jobs from being a DJ and a doorman to working in factories and on rigs. Work experience really opened Chris' eyes to the real dangers people face at work, and also how safe systems can be ignored not just by employers, but by colleagues as well.
It was when he was working as a scaffolder and helping out with health and safety activities, that he chose to add formal health and safety qualifications to his CV. He decided to start with the NEBOSH National General Certificate in Occupational Health and Safety. The Certificate lead him into a full time health and safety advisory role, but he wasn't willing to rest on his laurels. He immediately enrolled on to the NEBOSH National Diploma in Occupational Health and Safety.
"It took me a while to pass but I just have to knuckle down and work hard. Some of the challenges I faced around studying as a result of dyslexia meant I chose other tools and techniques to help me learn," Chris told us. "I used more visual methods to support my studies and found watching YouTube videos really helped. In fact, one question came up on a topic I'd watched online the night before!"
He went on "I had friends who were taking other qualifications at that time. But for me NEBOSH goes right across the breadth of health and safety, delving into areas you don't already know. Even the writing skills it requires which I found challenging, can be applied in real life when I'm preparing reports for clients." "I wanted to learn all I could so I could go on to work in all kinds of industries. To be a true professional. I also knew, that employers see NEBOSH as the best there is and that's what they always look for."
Chris secured an extension to complete the Diploma, not just because of his dyslexia but because of work commitments too. He is now working as an independent consultant and training provider, with high-profile clients operating in a wide range of industries such as petrochemical, construction and manufacturing; vindicating his decision to take a qualification with a broad focus.
Chris is recognised not just for his high-level qualifications, but also for both the experience gained on the tools in his early career and for his ability to communicate at all levels, particularly on what his Dad would have called the 'shop-floor'.
"I love what I do, and it's great to be in the position I am at my age where I'm my own boss," said Chris. "My dyslexia meant it wasn't the easiest option to pass the Diploma, but I'm glad I chose the route I did. It's certainly been worth it."
How has your NEBOSH qualification helped you? Email us with your story: marketing@nebosh.org.uk