"I had to fit my studies around my full-time role, but it was worth it!"
Case Study: Callum Irvine
In this interview, Callum Irvine, Deloitte's HSE Practice Leader, talks about his career and the part NEBOSH qualifications have played.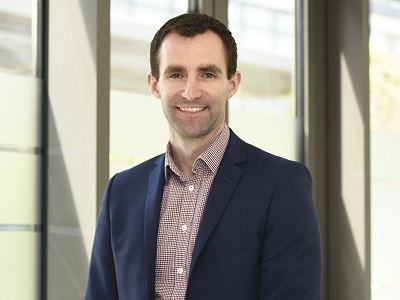 If my maths is right you did your first NEBOSH qualification, the National General Certificate, in your early 20's. Can you explain how this came about?
I didn't appreciate that health and safety could be a career until the business I was working for had to respond to an enforcement matter. As part the businesses' response, I was sponsored through my NEBOSH National General Certificate in Occupational Health and Safety on the understanding that, in addition to my 'day job', I took on health and safety.
Why did you choose the NEBOSH National General Certificate specifically and how did you find it?
A very experienced health and safety consultant recommended the qualification to me. Without his input, I may not have set off on this path so I will always be grateful for his guidance and support.
At the start of my studies, I remember feeling a little overwhelmed because everything was new. I was working in the leisure and fitness industry back then, so some of the topics covered in the syllabus were totally alien to me. I completed it on day release, which worked well because it gave me time to digest what we were being taught. At the end of the course, I was amazed by what I had been able to learn and retain.
Shortly after, you signed up for the NEBOSH National Diploma, followed by the NEBOSH Fire Certificate. Can you explain why you selected these qualifications as part of your development?
When I left school, I didn't really have a clear path ahead. I decided not to go to university because I didn't want to devote years of my life studying a topic which might not be right for me. I decided to start by following my interest in fitness and studied a diploma in personal training and sports therapy.
After a few years in the leisure and fitness industry, I was probably even less clear where I was heading longer-term, and so being given the chance to take on the NEBOSH National General Certificate was an easy hook – a chance to explore something new and hopefully come up with some answers - and since then everything changed! I soon decided I wanted to make health and safety my career, so I enrolled on the NEBOSH National Diploma in Occupational Health and Safety, funding it myself. I had to fit my studies around my full-time role, which was challenging at times, but it was worth it because my Diploma was a keystone for my health and safety career.
After completing my National Diploma, I secured my first full time health and safety role with the British Transport Police. At that time fire safety was a key focus for the organisation, so my employers paid for me to take the NEBOSH Fire Certificate.
Your career progression has been swift and impressive! What do you put your success down to?
At key moments during my career, people have backed me. Perhaps my contribution has been being ready and willing to walk forward whenever they have opened doors for me! This requires two things. Firstly, consistently bringing your best attributes, consistently. I never hoped to be a walking HSE encyclopaedia, but I know where to look for the right answers if I need them. I focus on building effective relationships and seeing things through the eyes of operators and leaders. Secondly, being willing to feel a bit uncomfortable from time to time. You cannot wait until you feel perfectly ready to move forwards as that moment may never happen. I find I grow best when I feel I am in a little bit too deep!
Good advice! You have worked in a wide range of industries including hostels, distribution, policing and luxury accommodation. How easy did you find it to switch between industries?
Experiencing different industries has been the magic ingredient for me which has really helped keep me energised and interested. I think the key to successfully switching between sectors is being humble, not expecting to know all the answers, and being willing to ask the right questions. It is important for health and safety professionals to feel confident to ask questions, without being worried they are revealing a knowledge gap to someone.
I am sure this wide-ranging experience helped you when you joined Deloitte and moved into more of a consultancy role in 2015. Can you tell us a little bit about what you are doing now?
Deloitte is the world's largest professional services organisation, supporting clients across a hugely diverse set of sectors and topics. I lead the client facing health, safety and environmental management practice. The work we do ranges from supporting Boards in independent HSE reviews, helping design organisational structures for HSE through to implementing digital and analytical solutions to support effective HSE management.
It is the opportunity to work on such a diverse range of projects and sectors that attracts people (including me!) to be part of the team. I personally love the opportunity to 'cross-pollinate' ideas and approaches between sectors. Hearing how different sectors perceive HSE can be fascinating, and really keeps us on our toes to make sure that we are talking the same language as our clients.
What do you enjoy most about your HSE career?
HSE blends a handful of things which I really enjoy; I've a bit of a bias towards 'process' based thinking, I do enjoy technical topics and I'm also deeply interested in how organisations operate. HSE offers a good overlap between each of these!
How do you think the profession can encourage more people to choose a health and safety career at an early age?
I'm sure there are plenty of others who, like me, don't appreciate that health and safety is a potential career choice until they have already entered the world of work on a different path. Perhaps supporting businesses' responses to the COVID-19 pandemic offers a bit of a window into what our profession does, so more school leavers understand the nature of our work.
I also think that some may hold the misconception that to 'do' H&S you need to have spent 20 years working 'on the tools' in that industry first. I remember earlier in my career thinking that not having years of operational experience was going to be a huge blocker for me, and fortunately, I was proven wrong. The ability to manage risk well should be industry agnostic - you don't need to limit yourself to any one industry or sector. Making the health and safety world one where you can hop between industries is something most of us can related to in one way or another and could be attractive for many starting their careers in the profession.
What advice would you give to someone who wants to get into health and safety?
Your colleagues will not expect you to have perfect recall of standards and regulations. They want you to be a trusted advisor and to be honest when you are at your knowledge limit and need to go and search for answers. This can do wonders for building that trust – certainly more than fluffing the moment with a reflex response.
Think about what your key strengths are and find a way to amplify them. I would also encourage you to keep asking questions and expect to feel (temporarily) out of your depth from time to time. It's part of the learning process!