I face any challenge with confidence because of my NEBOSH Diploma
Case Study: Viviana Albania
Viviana Albania is a successful SHE Manager based in Italy. In this interview, we find out Viviana's career and the part NEBOSH qualifications have played.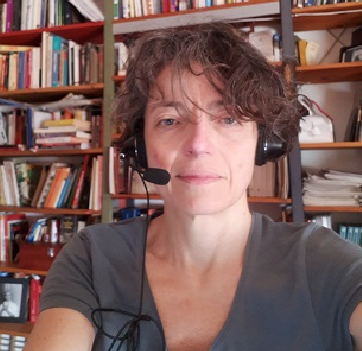 Looking at your LinkedIn profile, after completing a food technology degree you joined a global food company, that you stayed with for over 28 years. You worked in Quality before making the transition to Health and Safety. How did this come about?
You are right. I spent my first 11 years in the company's Quality department before moving into Research and Development. After three years managing a project in Italy that was focussed on integrating certifications, I spent a year dedicated to international auditing. When I returned to Italy after this amazing experience, I was offered three opportunities:
Return to the quality team as Quality Manager for Italy
Gain line experience as a Technical Programme Manager in a factory
Move into SHE as SHE Manager for Italy
Everyone thought I would choose Quality, but I surprised everyone and chose SHE; attracted to the high ethic content of the role. I have always been fascinated by the behavioural part of Health and Safety.
I was looking forward to my new role but knew I had a gap in my competence, so I looked for ways to address this. I researched my options and decided NEBOSH qualifications were the best choice. I started with the International General Certificate but initially had no aspiration to go on to take the Diploma.
You passed your International General Certificate (IGC) with distinction in 2012 Did you enjoy the course?
My IGC was a terrific experience. I completed it as a two-week block course in London with NEBOSH Gold Learning Partner RRC. My trainer and fellow classmates were amazingly supportive. My training was delivered in English which made it trickier for me as it is not my first language obviously. My tutor was so patient and always positive and when I struggled to grasp a particular element of the syllabus, he and my fellow students took time to explain it until it clicked!
I was so delighted to pass with distinction and felt that this vindicated my decision to choose Health and Safety. In a weird twist of fate, I met my tutor again at my Diploma ceremony many years later.
You completed the International Diploma (IDIP) between 2014 and 2016. Why did you take this qualification and how has this benefited your career?
Taking my Diploma has been the best decision I have made so far in my professional life, because I gained so much from it.
Since I passed my Diploma, I have worked at many sites and faced many risks. I have always felt capable of dealing with any challenge because of my Diploma. For me, the main gift the Diploma gives you is a method or approach to risk that can be applied to any situation.
There is no equivalent qualification in Italy, just a legal qualification ("safety and health adviser") which includes 100 hours of content. I know this alone would not have had the same positive impact on my confidence and competence as the NEBOSH Diploma. Without it, I would not have had the confidence to enter the Brake Road Safety Awards which my team won in 2016!
As an international company did your employer encourage its safety professionals to take NEBOSH international qualifications for consistency or did you choose NEBOSH independently?
Yes, they do now encourage NEBOSH international qualifications. The recommendation is for Health and Safety Site Managers to hold a NEBOSH General Certificate and for Health and Safety Market Managers to take the NEBOSH Diploma. It wasn't compulsory, but I have never regretted deciding to take either qualification.
You currently seem to have a dual role – working both as a Safety Adviser and SHE Manager for the Italian market. Can you explain how this came about and what this means for you in terms of workload?
I decided to take on Safety Adviser responsibilities in addition to my SHE Market Manager responsibilities five years ago. I found when I was explaining what I needed people to do, I would get "Easy for you to tell us" and "Are you able to practice what you preach?" type responses. I thought that by taking on a more hands on role in addition to my central Health and Safety role I would be better able to defend this challenge!
So, I now lead the health and safety approach for Italy and implement it for the site under my direct responsibility too. I know this may seem strange to some but for me it creates so real advantages. I get to see what works and what doesn't operationally, and it also provides a clear demonstration that I am approachable to the other Safety Advisers in my region.
Workload can be an issue given the scope of my role, but the person who can say they always have enough time and resources to get everything they want to do done, has yet to be born!
What do you enjoy most about working in health and safety and is there anything you do not like?
What I like most is facing a new challenge and working collaboratively with colleagues to find a solution. I love it when this evolves from a suggestion that comes from the shopfloor. Health and Safety that develops in this way is owned by the workforce as they have a voice and don't feel it is being done to them.
What I do not like is when there is a "poster safety culture". Health and Safety performance doesn't get better because you plaster posters everywhere. Health and Safety works best when everyone owns it and that doesn't happen with posters alone. It needs to be appropriate to the location and communicated effectively.
What would be your advice to anyone at the start of their health and safety career?
I believe it is vital to be curious and tenacious. You need to be willing to ask all the why questions, so you get to the heart of the underlying causes. By doing this you help to keep colleagues safe and keep your business healthy.
I can see you have the #open to work on your LinkedIn photo? Do you think your NEBOSH qualifications will help you make the transition?
Yes, after 28 years I think it is time to look for a new challenge. I have really enjoyed all my adventures but am eager to work somewhere different to support the safety culture and practices.
I hope that my NEBOSH qualifications will help me secure a new opportunity. NEBSOH qualifications are not so well known or required at the present time in Italy but I hope that the clear impact they have to holder's confidence and competence will change this. They have been instrumental to my career so far and I hope this will continue whatever my future brings.