How a rising star of safety is improving lives in Kenya
Case Study: David Ongesa - ARM Cement PLC
Acclaimed author, presenter and leadership expert Robert Sharma once said: "Investing in yourself is the best investment you will ever make. It will not only improve your life, it will improve the lives of those around you."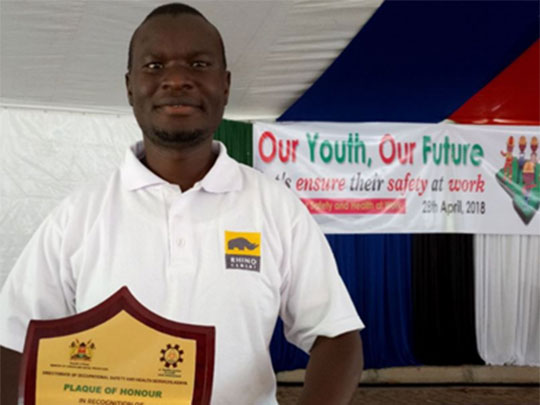 David Ongesa is a perfect example of the truth that lies within Sharma's wise words. David grew up in a small village in Homabay County within the western region of Kenya and is from what he describes as a "very humble background." As a small boy he was determined to break out of the cycle of poverty and he saw education as his greatest opportunity. His hard work and determination paid off and David became the first person from his village to go to university on a scholarship.
He gained a degree in Environmental Science, which is often seen as a pathway in Kenya to a career in health and safety. However, David saw a "disconnect" between what he had learned at university and the role he subsequently gained as a Health and Safety Officer. It was then he began searching the internet for a relevant qualification. He noticed that within international organisations in particular a NEBOSH qualification "appeared to give people an added advantage" However, his employers at the time would not sponsor him, so he would have to fund his studies himself. This meant taking out what was a considerable loan, but David was determined in his words "to gain the in-depth knowledge a health and safety professional should have."
Nine months later David passed his NEBOSH International General Certificate in Occupational Health and Safety and began to implement what he had learned. "I began by engaging with leadership at work, explaining how we should approach the management of occupational safety and health. They actually bought into my ideas because performance was not good and within 12 months we had reduced Lost Time Injuries (LTI) by a record 75%."
David shared his experience and achievements at several conferences and his reputation began to grow. He found a new role with his current employers ARM Cement PLC, who were keen for David to achieve similar safety performance improvements. In his first year with the company LTIs fell from 13 to just 5 and there have been no LTIs whatsoever in the first half of this year, a significant achievement in what is a high-risk industry.
David's salary has more than doubled since he passed his NEBOSH Certificate, so his self investment was certainly worthwhile. However, this is not what David sees as the most valuable outcome of his loan and his studies. "First for me the main benefit of the knowledge I have gained is what I have been able to contribute to my colleagues and the society we live in," David told us.
As well as significantly reducing workplace injuries and no doubt saving lives, David's achievements have been noticed at the highest level. He was recently invited to present his research findings into the reduction of Lost Time Injuries at a Kenyan National Conference on World Safety Day after producing an initial paper. He was awarded a plaque at the event by Kenya's Minister for Labour and the country's Director of Occupational Safety and Health (OSH). In addition, he has now been given the role of 'National Volunteer OSH Research Ambassador' as part of Kenyan President Uhuru Kenyatta's 'Big Four Agenda'. David now talks in schools and workplaces to promote health and safety throughout the country as part of the programme.
His latest initiative has been the development of a WhatsApp group designed to encourage students and others to embark on careers in OSH and also to become NEBOSH qualified. David mentors others through the group saying NEBOSH "will simply give them the knowledge to perform their tasks confidently and effectively." He also regularly visits his childhood village to give his support and to promote the benefits of education. David's family and friends are incredibly proud of his achievements and his significant contribution to those around him.