Heartfelt support for a new career at a vital charity
Case Study: Jason Walpole
Heart and circulatory diseases kill around one in 4 people in the UK, according to the British Heart Foundation, a charity that funds over £100 million of research each year into heart disease, stroke, vascular dementia, diabetes and other conditions.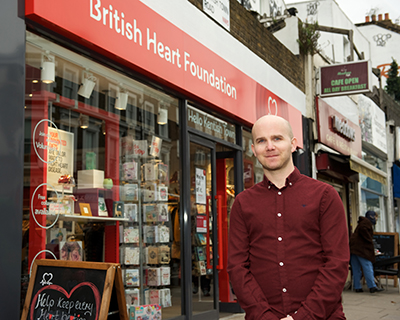 Like most charities, the British Heart Foundation relies on donations to carry out its work. However, at NEBOSH, along with the Charities Safety Group, we're proud to have been able to help in a slightly different way, by doing what we do best.
Jason Walpole, 36, started working at the British Heart Foundation in 2018. He came there with an accounting background, but was looking for a new challenge in the field of health and safety.
"Where I worked previously I'd been given a few ad hoc tasks around risk assessments and inspections and had really enjoyed it," said Jason. "I was looking for a way of getting into it full-time when I saw a health and safety position advertised at the British Heart Foundation, which also offered training. Because of the important work they do and the new challenge I was looking for I decided to gamble and just went for it."
Jason got the role and completed some basic training, before meeting the Charities Safety Group (CSG) for the first time. CSG provide a support network to people who work for charities and have health and safety responsibilities, but who are not necessarily health and safety specialists. NEBOSH has worked in partnership with CSG for many years to help charity workers gain health and safety qualifications. We waive our fees and our course providers provide free places to candidates who apply through CSG.
"It was absolutely perfect for the position I found myself in," said Jason. "As an accountant I already understood the value of professional qualifications and felt I needed to know more for the role. So when I heard about the scholarship to do the NEBOSH General Certificate I immediately thought it was something I should do and that obviously it would benefit the British Heart Foundation as well."
He added: "Having the NEBOSH Certificate has been hugely beneficial. It has helped in all sort of areas I get involved in. Because we're a quite a fast moving organisation, with all kinds of events going on as well as things like mental health ambassador training, COSHH assessments and contractor management, it has really fast-tracked me and made me feel far more confident. I have now been promoted to Health and Safety Advisor and the NEBOSH qualification was an important factor in me getting this new job role.
"There are a few others here who are NEBOSH qualified, including at Diploma level, so it's really made me feel part of the team and I can also see a route to progression. The NEBOSH Certificate has given me that framework of knowledge I needed for my role, as well as the practical skills I needed around things like hazard spotting, control measures and so on.
"From the British Heart Foundations perspective, the scholarship saves them some money, but there's really a lot more to it than that. Charities face the same financial, legal and reputational risks as other organisations, and having qualified health and safety people as part of their team is really important. I'd certainly recommend that anyone working in the charitable sector who has any kind of health and safety responsibilities finds out more about the Charities Safety Group and its partnership with NEBOSH."
Every year the British Heart Foundation organises bike rides, swims, treks, marathons and other activities to raise money for its vital research. To find out more about raising money or to donate, please visit the British Heart Foundation website.