Health and Safety is a way of life!
Case Study: Rashmi Goyal
NEBOSH talks to Rashmi Goyal, Senior Manager EHS at L'Oréal India Private Limited about her career and the part NEBOSH qualifications have played in her success.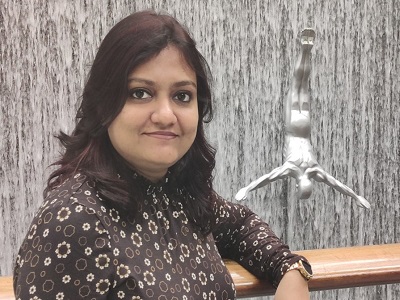 How long have you worked in health and safety, Rashmi?
It has been my career for more than 12 years, but I do not view it as a job, it is more a "Way of Life" for me. Caring for your people and their well-being is what health and safety is all about and this is part of my DNA.
I am so pleased that I discovered this career which has given me the opportunity to protect my colleagues by using my skills and competence.
I can see that you have worked for L'Oréal since 2019 and prior to that you work in the Oil and Gas industry. How easy was it to make this switch?
The two industries differ greatly so it was not as easy as I thought it would be, but I have really enjoyed the challenge.
As you would imagine because Oil and Gas is a high-risk industry, where the consequences of a mistake can be catastrophic, health and safety policies and protocols are very structured.
In my current role with L'Oréal I head up the EHS division and manage the organisation's seven admin sites in India. I have the freedom to use my skills and competence to refresh processes and procedures and create new initiatives to strengthen our health and safety culture. I suppose my role at L'Oréal is more strategic and I have more opportunity to innovate and change things.
I understand that you completed you NEBOSH International General Certificate in Occupational Health and Safety in 2018. What made you chose this qualification?
The main motivation was to confirm my understanding of what is expected of a health and safety professional given the changing demands of health and safety management. I found that the course instils confidence, adds practical knowledge, and helps you focus on career progression. It gives you a rock-solid foundation of knowledge that you can apply to your workplace, integrating and adapting the theory to well-known and new situations. For me, the other important reason to take the course was to enhance my credibility. As a qualified health and safety professional I feel I can better influence colleague behaviour.
Did you find your studies useful and enjoyable?
I have always been a very good student! I enjoyed my NEBOSH studies a lot because they gave a sense of contentment. The knowledge and wisdom I gained have guided my thoughts and gave a direction that is helping to shape my career.
I understand you were the top learner for your cohort with NEBOSH Gold Learning Partner, NIST Institute Private Limited. How did this feel?
When I heard the news, I felt like I was "On Top of The World". Throughout the course, my fellow students and teachers were all very complimentary about my ability to apply what we were learning. During the course, my peers often looked to me for guidance and support. This helped build my confidence and I believed that I would crack the assessment with excellence. When the results were announced, I just could not stop smiling as all my hard work paid off.
How has the knowledge you gained from the NEBOSH International General Certificate in Occupational Health and Safety helped you in your career?
It has helped me a lot in my career. After my NEBOSH success I am more confident in handling day-to-day challenges at my workplace. I take up tasks with more conviction as I feel more capable and better equipped to succeed.
What do you plan to study next?
I have already enrolled for the NEBOSH International Diploma in Occupational Health and Safety and plan to also take the NEBOSH HSE Certificate in Health and Safety Leadership Excellence. My new role requires me to lead the activities and get things done through people without a formal authority. I firmly believe that people management is key, and this is my motivation for choosing the leadership course.
What do you like and dislike most about working in health and safety?
The best part of this profession is that it is all about caring for your people. You can create processes, awareness and instigate a lot of changes to processes and systems to keep colleagues safe.
I will not say I dislike it, but for me the biggest challenge is to bring others round to my way of thinking! But when you achieve this it is the most rewarding aspect of the job too! We must all work to bring about a paradigm shift in the way others view health and safety.
What are your long-term career aspirations?
I like to live everyday as it comes and to take the opportunities that present themselves. Having said that, I do have my set of expectations for myself. I want to build on my successes and continue to lead EHS and act as influencer for cultural change.
What advice would you give someone who is considering health and safety as a career?
Enhance your skills and look at things differently. Strive to use your powers of persuasion to encourage others to view health and safety as you do. Work hard and you will make a difference!