Health and safety doesn't have to be a second career choice, it's a great first one!
Case Study: Carly Hughes
NEBOSH talks to Carly Hughes, Assistant Group Health and Safety Adviser at Persimmon Homes, about her experiences in construction and the next steps for her professional development.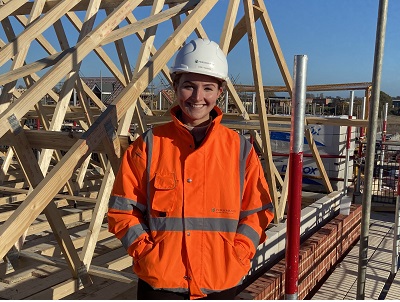 For many practitioners, health and safety is a second career that begins when they take on additional responsibilities, which they find they enjoy. You chose to go into health and safety after A levels. What prompted this decision?
When I was 18, I decided I wanted to go straight into employment rather than go to university. I started as a Receptionist at a local renewables/oil and gas company, and after 9 weeks, I was asked if I wanted to move into the health and safety department as an Administrator. This really appealed to me as I have always taken a keen interest in human behaviour, having studied human biology, psychology and PE at A level, and my passion is to help people. The move worked out well for me and I was quickly offered a Health and Safety Assistant role. I improved my knowledge through hands-on experience and by completing my NEBOSH General Certificate in Occupational Health and Safety.
How did you find the course, and did it help you do your job?
The course was fantastic. I opted for online learning and found it extremely interactive, very user-friendly, and the support provided by my tutor was excellent. Taking the certificate helped me in my first health and safety role and continues to help me today as the knowledge gained can be applied to almost any industry.
I can see that you have worked in a few sectors already. Can you tell us about this, and did you find moving from one industry to another easy?
After working in the oil and gas industry for just over two years I moved on to an engineering and manufacturing company. In that role I coordinated the health and safety management system across three workshops that produced coiled tubing, nitrogen and snubbing equipment.
My next move was into my current role in the construction sector. I find working in construction easier than the oil industry, but the transition was quite overwhelming to start with. I found that once I had familiarised myself with build stages and the basics, the rest followed but every day has been a school day! It helped that I have been surrounded by experienced colleagues including Site Managers and fellow Safety Advisors who I can learn from.
Shortly after your latest job change, you chose to take the NEBOSH National Certificate in Construction Health and Safety. How has this helped you in your new job?
In my opinion, the NEBOSH National Certificate in Construction Health and Safety provides the perfect grounding for any safety advisor working within the construction industry. It is very thorough and covers most work activities that you need to consider on a construction site such as working at height, excavations, site security and set up.
I really enjoyed this course and found all the content could be applied to my job role easily. It has given me the knowledge I need to fulfil my duties as a Safety Advisor and has given me the confidence to implement the required safety measures on site.
Can you tell us a little more about what your role as Assistant Group Health and Safety Adviser for Persimmon Homes entails?
It's a largely field-based role covering the Anglia region which includes the whole of Norfolk and some of Suffolk. While on-site I inspect the construction activities of traditional house building to ensure the site is compliant with group health and safety policy as well as UK health and safety legislation. After each inspection I prepare clear reports recording any non-compliances and good practices I have observed.
I also carry out accident and incident investigations and proactively conduct incident led investigations, which sometimes involve reporting incidents to the Health and Safety Executive (HSE) under RIDDOR.
A lot of the initiatives and campaigns we rollout try to prevent incidents from occurring or aim to avoid the occurrence of occupational illnesses in later life (such as silicosis or occupational asthma, for example).
My role also requires me to prepare reports for the business and provide health and safety advice and training to colleagues at all levels of the business from Managing Directors to apprentices, as well as various trades including bricklayers, scaffolders and groundworkers.
What do you enjoy most about working in health and safety?
The diversity! I love that no two days are the same and I seem to learn something new every day. I also like the banter on sites - everyone looks out for one another and the atmosphere is great.
Being a young female in very male-dominated industries can be intimidating. But I have developed a thick skin and now feel confident to stand my ground to ensure my voice is heard just as much as my male counterparts.
Is there anything you do not like about working in health and safety?
Naturally, I don't enjoy conducting accident investigations, because it means someone has either been seriously hurt or there has been a lot of damage to a structure or equipment. I can usually tell from the tone of a Site Manager's voice if something bad has happened and I get that horrible feeling in the pit of my stomach.
What's next for you in terms of your personal development?
I am being mentored by NEBOSH Diploma holder and IOSH East Anglia Branch Chair, Angela Abbs. I find having a mentor really helps me focus on my development and identify what my next steps should be.
As I wanted to hone my people skills to help me deliver training and advice more effectively, I have just signed up for the PTTLS/Level 3 Award in Education and Training which I will study shortly. After that, my next goal will be to achieve GradIOSH status so I will be enrolling on a level 6 qualification, most probably the NEBOSH National Diploma in Occupational Health and Safety. My ambition is to achieve Chartered status by the time I am 30 so I have six years to do this!
Wow that is amazing! How do you think the industry can encourage more people to follow your lead by making H&S their first-choice career?
There should be more apprenticeships and traineeships in health and safety available to young people as they leave high school or further education.
I think stories like mine, which demonstrate how rewarding this career can be whatever age you discover it, will also help. My generation use social media, so it's a great way to get this message out. Health and Safety doesn't have to be second choice career. From my own experience I know it is a great first one!
---
How has your NEBOSH qualification helped you? Email us with your story: marketing@nebosh.org.uk.