Health and safety: an excellent career choice for graduates
Case Study: Molly Smith - Pladis
Research suggests that only around half of undergraduates in the UK have a clear idea about what career they would like to follow after university. Molly Smith, 26, fell firmly within the "don't know" camp when studying for a Geography degree at Durham University.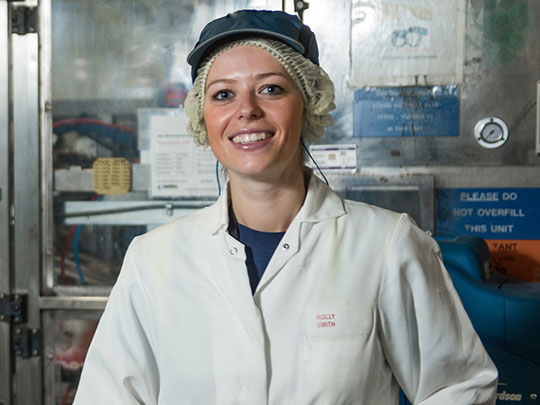 In fact, her plans at the time were to "stay on and do a Masters". However, by the time she had completed three years of study Molly felt ready for work instead. The only problem was she still wasn't sure what she wanted to do.
Fortunately, Molly gained a place on a graduate training scheme, which focused on health, safety and environmental management soon after leaving university. She immediately felt the role would enable her to "make a difference" and found it fitted well with the skills she had developed at university. "No day was the same, I was always getting involved in something different and I really enjoyed the people element." Molly told us.
As part of her development, within three years of leaving university, Molly completed both the NEBOSH National General Certificate in Occupational Health and Safety and NEBOSH Diploma in Occupational Health and Safety. Molly has found both qualifications to be "immensely helpful".
"Obviously the knowledge NEBOSH gives you is absolutely vital for doing the job," she said. "Having just left university it was a good time to study and sit exams, because I was so used to it. My background was not health and safety so they helped me to understand the thinking behind it and they cover the whole remit too."
She added: "It was also great meeting people from other companies who were studying for the Certificate and later the Diploma. I was part of a group of around 20 people from varying backgrounds and ages. Just that whole networking thing, sharing experiences and having people you can turn to to discuss ideas and answer questions, has been invaluable. And of course that continues, even when the studying is over."
Fast forward five years to 2018 and Molly has recently taken on the role of Health, Safety and Environment Advisor at Pladis, who own biscuit manufacturer McVities. She told us having the NEBOSH Diploma played a significant role in her gaining the position. "I think more than anything it helped me demonstrate my commitment.
At my interviews for the role I faced a lot of questions around behavioural safety and technical issues so having that knowledge gained from the Diploma helped me a lot. Taking my NEBOSH qualifications has definitely been a good thing and has supported my career development so far.
"Safety is really important at Pladis and I think there are good opportunities here for me to develop my career further. It was one of the reasons I wanted to come and work here."
Most of Molly's peers at university who studied geography seemed to go into teaching or accounting, but she wanted to do something different. In Molly's case, being different has paid off.
Molly agrees that health and safety can be an excellent career choice for graduates, even though it might not be one that immediately comes to mind. "I haven't really met anyone else like me who just went straight into it from university, but I highly recommend it. If you enjoy engaging with people, protecting them from harm and facing new challenges every day then this is a great profession to get into and NEBOSH can certainly help you progress further."
---