Having NEBOSH qualifications meant that my colleagues took more notice of my recommendations
Case Study: Adegoke Timothy Ademola, Fire and Safety Officer - Louvre Museum Abu Dhabi
NEBOSH spoke to Adegoke Timothy Ademola a Fire and Safety Officer - Louvre Museum Abu Dhabi about his NEBOSH experience.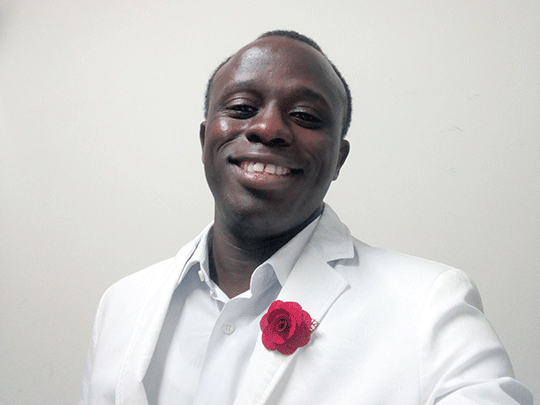 Why did you choose a career in health and safety?
I chose a career in Health and Safety because I have a passion for ensuring lives and properties are protected. I have used this passion in both my personal and professional life to encourage my friends, family, and colleagues to adhere to safety measures, so they go home in good health at the end of each day.
Why did you choose NEBOSH qualifications?
NEBOSH qualifications helped me gain professional recognition and for me are the pinnacle for health, safety and environmental professionals. I specifically chose the NEBOSH International General Certificate in Occupational Health and Safety and the NEBOSH International Certificate in Fire Safety and Risk Management qualifications because of their relevance to my role as a Fire and Safety Officer.
How did you find the International General Certificate and International Fire Certificate?
I learnt a great deal from both qualifications and found the knowledge I gained had practical relevance to my job. After my NEBOSH success, my colleagues took more notice of my recommendations. I do not know if this is because I have more confidence and conviction, or that my NEBOSH success raised my credibility. My qualifications have been the source of a great deal of joy and success in my career and have improved my understanding of the HSE profession.
How did you juggle work and studying?
I built my studies around my working day. I would fit in an hour before going to the office in the morning and once I finished work, I would then continue to study in the office. I made sure I didn't distract myself with any social activity.
What impact has having NEBOSH qualifications had on your career?
My NEBOSH qualifications have improved my perspective and applying my knowledge in the workplace has helped my practice and have also helped me stand out from the crowd. They have given me experience and knowledge and are globally recognised which has in turn created job opportunities.
Can you explain what your current role is and how your responsibilities have changed due to COVID-19?
I am a Fire and Safety officer for the Louvre Museum Abu Dhabi. I carry out daily fire and safety inspections to identify any health and safety hazards that need addressing. I conduct fire risk assessments, accident and incident investigations, and monitor the permit to work system. I am also a fire alarm responder. My role is very varied, which I enjoy.
The COVID-19 pandemic did not change my role significantly because of my focus on fire safety. I did gain some additional responsibilities as I was asked to be part of my employer's COVID-19 taskforce team. This was set up to agree our response to COVID-19 and ensure the approach was effectively rolled out.
What do you enjoy most about your HSE career?
When I applied for my current role, I was attracted to it specifically because of its focus on fire safety. This is the aspect of my job that I enjoy the most. Fire can cause destroy lives, properties and the environment so I get great satisfaction knowing that I have implemented procedures that can prevent this. My interest in fire safety began in Nigeria before I moved to Abu Dhabi. I became an advocate of fire safety campaigns and awareness at that time because I knew the impact of a fire would be major in Nigeria.
Are there any aspects you do not enjoy?
Unfortunately, some people, in my home country and elsewhere, still want to bypass safety procedures and this is very frustrating to me knowing the consequences this can have. It creates a massive challenge in enforcing the measures put in place.