Having a NEBOSH qualification is a good personal branding tool
Case Study: Baris Tascioglu, Site Safety Specialist at Securitas UK - LinkedIn account
NEBOSH spoke to Baris Tascioglu, Site Safety Specialist at Securitas UK - LinkedIn account about his NEBOSH experience.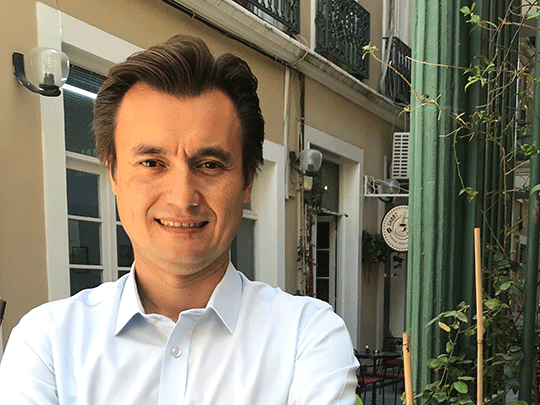 Why did you choose a career in health and safety?
I come from an engineering background and have previously held leadership roles in both the construction and energy sectors. Throughout my career health and safety has always interested me, particularly how people react to measures in either a positive or negative way. Through my work I had learned many technical safety aspects, particularly whilst working in high-risk environments. I have worked on a number of projects for Shell, where I gained huge safety knowledge and know-how and found myself inspired by the excellent safety culture Shell has created. This time at Shell proved to be hugely influential, and I trace my decision to change the focus of my career to health and safety to the time I spent working with this organisation.
Why did you choose NEBOSH qualifications?
I think NEBOSH is a very strong brand and well known by companies and clients around the world.
NEBOSH success provides its learners with further development opportunities as they are recognised by professional bodies and can support membership applications.
For me personally, I felt NEBOSH qualifications would act as a good platform and were a great way to measure and evaluate my skills and knowledge. I am proud to have achieved the NEBOSH International Certificate in Occupational Health and Safety and the NEBOSH International Diploma in Occupational Health and Safety.
Did you find them useful and enjoyable?
Useful, absolutely yes. I always tried to apply my ongoing NEBOSH studies in my workplace. I found that if I could match my study notes and example questions with examples in my workplace it helped me fully understand what I was learning. I found its was this application of learning that I particularly enjoyed.
How did you juggle work and studying?
Each day after dinner I studied at home for one or two hours while enjoying my Turkish coffee. I must admit that the lockdowns due to COVID-19 helped as well! During my studies, I found that having a mentor, really helped me establish a sound understanding and strategy. I cannot thank my mentor Ilgin Atalar Grad IOSH enough for all of her help and encouragement. I chose to study in my personal time after work to avoid distractions. I need to allocate time to my studies to ensure I could focus without being disturbed.
What impact has having NEBOSH qualifications had on your career?
I achieved my NEBOSH International General Certificate eight years ago and this helped me land a promotion within a great company I was working for at that time. Since I completed my NEBOSH International Diploma earlier this year, I have managed to secure a new job in the UK. I have found that having a NEBOSH qualification is a good personal branding tool for individuals.
Can you explain what your current role is?
I am a Site Safety Specialist at Securitas UK, LinkedIn account, where I support LinkedIn in their efforts to create a safe and secure working environment.
How have your responsibilities changed due to COVID-19?
Widely I would say. I started my current role in June 2021, but COVID-19 had a massive impact in my previous role where I worked for a hotel chain back home in Turkey. I took on responsibility for ensuring we met all legal requirements, developed working from home policies, ensured appropriate physical measures were in place on site, and implemented and enforced hygiene regimes. For me, COVID-19 has reminded organisations of the value and difference health and safety professionals and competent persons can bring to their workplace.
What do you enjoy most about your SHE career?
I am happy when everyone returns to their home and loved ones after work in a well and physical. It is my duty to make sure that a safe and secure working environment is maintained. I enjoy it when everyone is engaged in health and safety, and value their contribution to solving problems and expressing their ideas. Aside from that, I also enjoy mentoring learners and new starters in their career.
Are there any aspects you do not enjoy?
I find it disappointing that health and safety is not always viewed as being the same level of importance as other disciplines in some organisations. I am hoping that the contribution that we all made to our respective organisations during COVID will help to change this. It is disappointing when you see health and safety requirements not being followed, especially if the corporate position is to pretend this is not happening. As health and safety professionals we can help to bring about this change in attitude through our actions.
What advice would you give someone who is considering health and safety as a career?
Use your spare time and put effort into your professional development. Make contact with your peers, attend network events, connect with leaders and fellow professionals on LinkedIn and this will help you to build up your personal brand and reputation. The opportunities I have benefited from in my career are down to building my profile, networking and most importantly from working with great leaders in my life who have contributed significantly to my development.
I would also recommend having a mentor. I connected with my mentor Ilgin Atalar before I started my NEBOSH Diploma studies. I carried out a search online and reached out to Ilgin and introduced myself. She helped me in developing a strategy first, then we had regular phone calls to discuss my progress and she was so patient answering my endless questions. Having this ongoing help, support and inspiration has been so helpful to me and has had a massive impact.