Protecting the Nation's Archives
Case Study: Graham Taylor - National Archives
As a crime scene officer with Hampshire Police, Graham Taylor developed a special interest in fire investigations. He revelled in discovering the causes of fires, and being able to bring evidence to court where fires were started maliciously.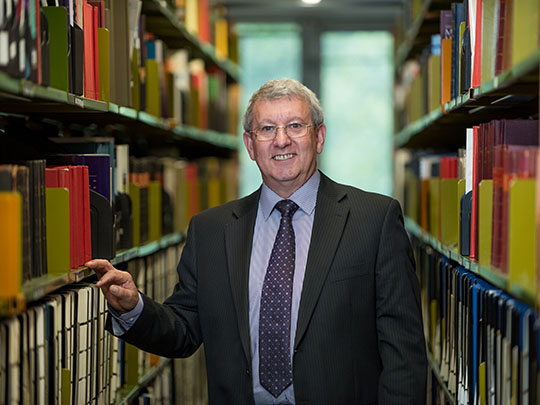 Now Graham's life and occupation has changed completely. However, a lot of what he learnt in the past still applies. Only now Graham is more focused on stopping fires from happening than understanding what caused them.
Preventing a fire is hugely important where Graham works, because it is where the UK Government stores '1,000 years of history', from the Domesday Book to the present, in The National Archives at Kew. Documents housed there include court records, a vast collection of maps, military service and operational documents, Foreign Office correspondence and files, Cabinet papers and of course original legislative documentation, whether it is the Treason Act of 1351 or the Health and Safety at Work etc. Act 1974.
This historical treasure trove is open to the public and also employs almost 700 people, from archivists and historians to teachers and IT experts. Graham is also responsible for their health and safety in the workplace. However, occupational health and safety was not something Graham did officially until after he "retired".
Originally from Barnsley in South Yorkshire, Graham served in the Royal Navy from the age of 15 until his mid-20s. When he returned to shore after "seeing the world" he joined Hampshire Police where he became a Scenes of Crime Officer (SOCO), gathering forensic evidence for cases ranging from shed fires to murders.
Fast forward almost 30 years to 2004, and Graham has retired from the police but is still working. Almost by accident, through some investigation work for a large city based insurer, he stumbled into completing health and safety audits and fire risk assessments. He immediately saw a connection with the softly softly approach to achieving compliance he was as adept at as a police officer.
After self-funding and then passing both his NEBOSH National General Certificate in Occupational Health and Safety and National General Certificate in Fire Safety and Risk Management, Graham gained a few years' experience with a range of employers. Then he applied for what was originally a short-term position as a Health & Safety Advisor at The National Archives.
Without his NEBOSH General Certificate, he may not have got the job."I completed a project on Legionella as part of my Certificate course, and was asked a lot of questions about the subject during my interview for the role," explained Graham. "We have two cooling towers here, so it's one of those risks that need to be closely managed."
After gaining the position Graham set about making step-by-step improvements to policies and procedures. His approach to health, safety and fire risk management impressed and he was offered the job on a permanent basis. He has been there 8 years now and says National Archives is a "wonderful place to work."
Aged 62, Graham continues to study and is around three quarters of the way through his NEBOSH National Diploma in Occupational Health and Safety. His motivation to continue his studies is to satisfy his interest to learn more and perform well in his role.
"As a young man my career ambition was the Navy, and I'm glad to say I achieved that. After that, my career was with the police, and I'm glad to say I survived that. Now, I just enjoy coming to work, and it really is as simple as that."
---