Global health and safety role perfect choice for detail orientated Lucia!
Case Study: Lucia Rivolta - Global Health and Safety Manager - Criteo
In this interview we speak to Lucia Rivolta, who is technology company Criteo's Global Health and Safety Manager. Lucia explains about her role and responsibilities and shares her top tips for anyone at the start of their health and safety career.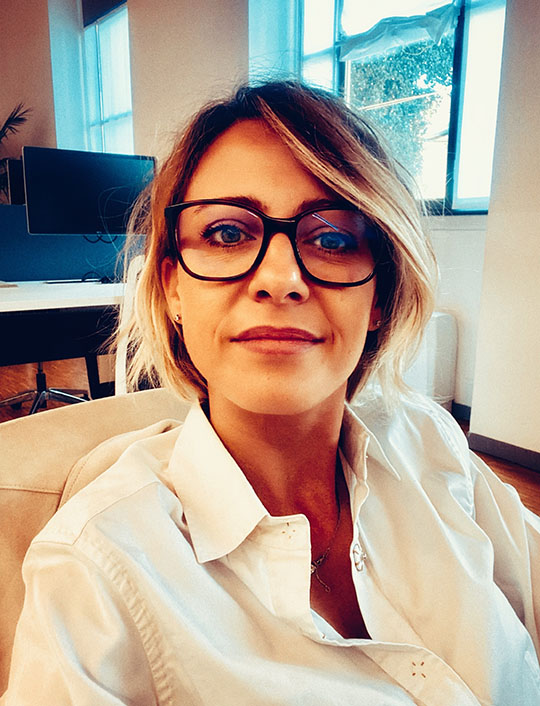 Lucia, you have worked for Criteo, a global technology company since 2015. Can you tell us a little about the organisation?
Criteo helps marketers and media owners achieve their goals through our world leading Commerce Media Platform. By activating the largest set of commerce data, it helps thousands of brands, publishers, and retailers to reach and monetize audiences.
The organisation's headquarters are in Paris, France, but our incredible team operates from offices across the world. As a team we stick together, accomplish together, and celebrate together and are always striving to do the right thing to create a sustainable impact for our customers, our industry, and the people we serve.
We aim to create richer experiences for every consumer by powering the world's marketers and media owners with trusted and impactful advertising. Criteo supports a fair and open internet that enables discovery, innovation, and choice.
Your first role with the company was as a Workplace Experience Manager in Italy. What did this role entail?
When I joined Criteo six years ago, my initial role was focussed on facilities management and people experience. My main responsibilities as a Workplace Experience Manager were concerned with maintaining the office environment so included vendor management, space management, procurement, and IT responsibilities. As I strove to create the best working experience for my colleagues, I also got involved with organising CSR activities and internal and team building events.
How and when did you start to pick up more health and safety responsibilities?
I had some health and safety responsibilities as a Workplace Experience Manager but in 2018, my manager made me aware of a new opportunity that would be focussed on coordinating Criteo's health and safety compliance at a global level. She knew I was looking for a new challenge and felt that this HSE role could be perfect for me because I am a detail-oriented person, who loves procedures and processes! I applied for the role and, when I found out I had been successful, I enrolled on the NEBOSH International General Certificate.
Can you tell us why you chose the International General Certificate?
As I embarked on my new career in the HSE field I wanted to improve my skills and knowledge. Having looked at the qualifications available on the market, I felt the NEBOSH International General Certificate (IGC) was the best option for me. I liked its international focus, which was particularly relevant given my new global responsibilities, and I felt the topics covered by the syllabus were exhaustive.
Did you enjoy the course and how did it benefit you?
It was a long course, but I really enjoyed it and gained so much from the time I devoted to my studies. Not only did the IGC give me a clear understanding of most aspects of health and safety, it also gave me the right mindset and skills to perform my role.
I had the confidence and knowledge I needed to manage health and safety at work and had a clear understanding of why it is important to plan, how this should be approached, and what I needed to check and trace to understand our health and safety performance.
After completing the qualification, I can see that the health and safety element of your job has continued to grow and in December 2020 you were appointed Criteo's Global Health and Safety Manager. Can you tell us about this role?
Absolutely. Holding the NEBOSH International General Certificate made me the right person for this global management role, and I absolutely love it. I feel that since making the move into health and safety I have already achieved so much with the cooperation and support of my colleagues around the world. When I look back, some of my highlights include:
• Rolling out a global health and safety international (internal) standard, to ensure consistency in approach.
• Developing and issuing six global internal health and safety policies.
• Raising regulatory compliance from 40% to 80% in two years through our compliance and risk mitigation efforts.
• Introducing a new management system and tracking dashboard (which incorporates a health and safety management platform and 24/7 Helpline) that helps us track health and safety documentation, training records, medical checks, risk assessments and incidents/accidents more effectively.
• Playing an active part (as part of my business continuity and emergency response responsibilities) on the steering committee that led Criteo's COVID-19 response.
• Working with colleagues in HR to ensure effective incident investigation and accident reporting.
• Coordinating health and safety training for the organisation's 3000 employees based in more than 25 countries around the world. More comprehensive training has also been provided to our in-country health and safety representatives.
• Supporting all real estate projects, including completing four new buildings safety risk assessments in 2021.
• Taking every opportunity to create synergies with other departments such as working on Diversity and Inclusion (Disabled People Policy, Communities events) and the Criteo Green Community (who deal with sustainability and CSR).

Criteo is an innovative global tech firm. Within the health and safety function, do you use technology in new and different ways to fulfil your responsibilities?
You are right, Criteo is an innovative organisation that always looks for ways to harness new technology to help us do things better.
Within the health and safety area, the development of the platform has been the key innovation. It has made it easier to track our health and safety activities, spot trends, and highlight areas that require more focus. It provides a useful oversight of our performance at a local, national, and global level.
The organisation also looks for innovative ways to reduce risk, such as providing electronic standing desks for all employees.
What do you enjoy most about being a health and safety professional?
First and foremost, as occupational safety and health professionals we have very rewarding jobs. By creating safe work environments, we help to prevent workplace fatalities, injuries, and illnesses. Working in occupational health and safety allows me to make a difference and have a positive impact on work culture.
What I also really love is that health and safety has no boundaries. You get to work with colleagues from across your business, you can work in any industry or business field, and it applies in your personal life too! I love the freedom and opportunities this creates and as a sociable person I love the many opportunities I have to interact with others.
What would be your advice be to anyone at the start of their health and safety career?
This job has no boundaries - You will soon understand that this topic has no boundaries. It's such a multidisciplinary subject. You can apply its principles and aims to any field. And this makes HSE inter-disciplinary. It means that not only you're free to choose/look for your desired field of implementation (type of company and associated level of risk), but also means that within the same company you will apply the HSE principles to many aspects of the working life.
You do not need to memorise legislation – I spent so much time stressing because I couldn't remember it all, but it really isn't necessary and is almost impossible if you look after lots of countries like I do! What you need to do is familiarise yourself with the key information and be ready to check the specifics. You are not a failure if you need to check your facts; that is what HSE websites are for!
Try to meet people where they are and take them with you – Be mindful that people can be resistant to change but that doesn't mean your ideas and suggestions are not valid. If you feel your organisation has an outdated health and safety approach, always put your ideas across, but do not be disheartened if they are not picked up straight away. Remember that positive change is a marathon not a sprint.