Firm has goal of one in 7 staff NEBOSH qualified
Case Study: Biogen
From a standing start in 2005, Biogen has become one of the largest operators of anaerobic digestion plants in the UK. Whilst customer service, innovation and a carefully crafted acquisition strategy have been critical to Biogen's success, the company's commitment to achieving internal excellence has also proven vital.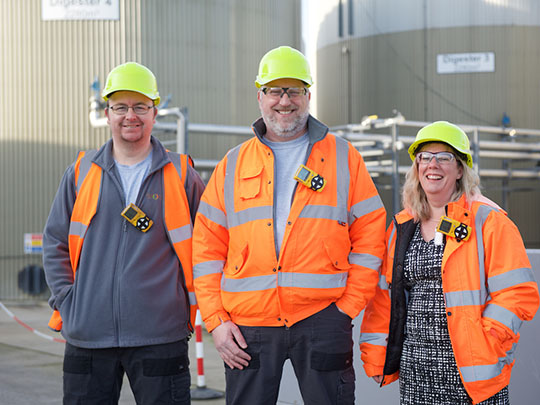 Anaerobic digestion (AD) involves breaking down organic matter such as animal or food waste to produce biogas and bio-fertilizer. The biogas is used to generate renewable energy and the bio-fertilizer, which is pasteurised to kill any pathogens, is applied to farmland in place of fossil fuel derived products. Every tonne of food waste recycled by AD prevents around 0.5 to 1.0 tonne of CO2 entering the atmosphere.
Biogen now operates a network of thirteen AD plants and six composting sites across England, Scotland and Wales. Compliance represents a significant external challenge for the group. "It certainly is very full on,' said Kate Lister, Biogen's Compliance Director. "As you can imagine, we are very heavily regulated. We operate under environmental permits with all the respective national regulators and because we recycle meat products as well, we also have to be approved by the Animal Health and Plant Authority. As an energy producer we're regulated by Ofgem and as we're involved in what is a relatively new industry, the Health and Safety Executive (HSE) also take a keen interest in what we do."
Biogen's strategy for managing compliance has always been focused on achieving a strong internal mix of capabilities and competencies. Kate is a graduate in environmental sciences and management who previously worked for the Environment Agency before joining Biogen in 2006.
Responsibility for health and safety rests with Peter Bailey, an experienced NEBOSH Diploma holder who previously worked in the steel industry. "The big thing that attracted me to the Health and Safety Manager's role here at Biogen was how highly compliance is regarded as part of the overall business strategy. Obviously, the consequences of failure are high, but there are also many motivational reasons behind why we want to be leaders in our industry."
One of the outcomes of Biogen's strategy has been to set a goal of having at least 25 of its 180 strong workforce, that's around one in every seven employees, qualified to NEBOSH Certificate level. Kate took the NEBOSH National General Certificate in Occupational Health and Safety recently. Not only did Kate pass, she achieved the highest mark of all candidates who took the qualification in 2017/18, which only emphasises the level of talent Biogen has at its disposal.
Peter commented: "Engagement with our health and safety system across the organisation is really important to us. Having one in seven personnel NEBOSH qualified significantly raises our capability and competence levels and also provides operational benefits. For example, when one of our remote locations was inspected by HSE recently, we were confident in local management handling it all because they had been through the NEBOSH Certificate. Overall, it's a great development for Biogen."
Pictured - Peter Osborne, Senior Engineer, Mark James, Site Manager, & Becky Greaves, Head of Research
How has your NEBOSH qualification helped you? Email us with your story: marketing@nebosh.org.uk
National General Certificate in Occupational Health and Safety