Experience shows in Environmental Certificate
Case Study: Tim Compton - Marchwood
There are many good reasons to take a vocational qualification when you are at the beginning of your career, but what if you've got over 20 years of work experience under your belt?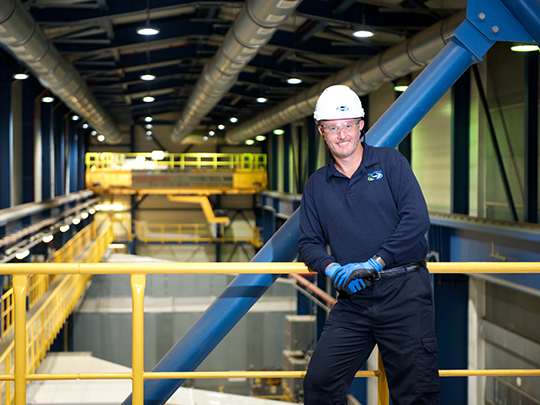 Tim Compton had worked in compliance since he left university. After initially working off-shore in the North Sea he embarked on a long-term career in the environmental services industry.
It was in 2015 when he got the call about a vacancy at Marchwood Power Ltd, a company which owns and operates a £380million natural gas-fired combined cycle (CCGT) power station in Southampton, UK. The site is strictly regulated by the Environmental Agency and requires an environmental permit.
While it was Tim's background in environmental services that secured him the role of Environmental Health and Safety (EHS) Engineer, the preceding job search and a new role with a wider remit prompted him to look at what was missing from his CV; vocational qualifications.
"There is definitely an expectation now if you operate in this field that you must have relevant qualifications. Certainly the NEBOSH National General Certificate in Occupational Health and Safety, for example for health and safety" he said.
"We have very good levels of compliance at Marchwood and because we are relatively new, having been commissioned in 2009, the technology we use is state of the art," Tim told us. "We rely on a high level of competency throughout the workforce. They understand the hazards, the risks and the significance of doing things correctly."
It was important to Tim that he was able to gain qualifications that would reflect the competence and skills expected of his new role. He began with the NEBOSH Certificate in Environmental Management: "Marchwood is very supportive of training and it was important to me to bring myself up to date from a qualifications perspective. I think this is an excellent qualification for people, like me, looking to formalise their experience in environmental management or for those embarking on a career in the field."
When the results were released Tim not only achieved a distinction, but also gained the highest mark of all candidates taking the qualification in 2016. "To come top was surprising," he added. "Regardless of your knowledge and experience, you expect to come up against some very good candidates. All I can say is it was great to come top and it has been recognised here at Marchwood as well, so I'm really very happy with the result."
Tim has also just achieved a Distinction the NEBOSH National General Certificate in Occupational Health and Safety. "Safety always has to take priority, particularly on a site like this. The course has been excellent and helped me improve my knowledge in areas where I am not as strong."
He added that one of the greatest benefits he has gained from taking his NEBOSH qualifications has been the chance to network with other candidates: "It's been great meeting other practitioners from different fields and industries and listening to their issues and just sharing knowledge, experience and good practice."
Congratulations and well done Tim!
How has your NEBOSH qualification helped you? Email us with your story: marketing@nebosh.org.uk