Effective risk management cannot be done in isolation!
Case Study: Simon J. Beer
We spoke to Simon J. Beer, Facilities Manager at Accord Healthcare about his career and the part NEBOSH qualifications have played. Simon shares his experience of one our newest qualifications; the NEBOSH IIRSM Certificate in Managing Risk.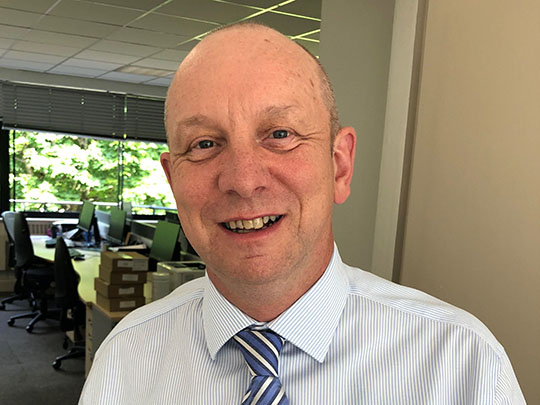 I can see the first NEBOSH qualification you completed was the National General Certificate in Occupational Health and Safety (NGC) in 2014. What motivated you to study for this qualification and did your success have an impact on your career path?
I completed the NGC to improve my health and safety skills and knowledge. I recognised achieving the qualification would support me in the role I was in at that time as well as my longer-term career aspirations. It built upon the expertise I had gained previously and has enhanced my personal skills and proficiency throughout my career.
You have completed numerous NEBOSH qualifications since, including the NEBOSH HSE Introduction to Incident Investigation and the NEBOSH Certificate in Fire Safety. Can you tell us:
How have these qualifications have helped you?
Achieving credible qualifications such as NEBOSH, has given me the confidence and underpinning knowledge necessary to be successful in my role. My NEBOSH success also gives my peers and the organisations I work for confidence in my abilities as a professional. For me, the most important impact is that I have used the skills and knowledge I gained to make a difference and improve health, safety and wellbeing for all – I have one aim and that is to make the world a healthier and safer place to work.
If you have a favourite NEBOSH qualification and why?
This is a hard one but if I had to choose it would be the NEBOSH HSE Introduction to Incident Investigation. It provides an excellent grounding and a structured format of how an investigation should be carried out. The course provided me with a range of practical tools that can be used to complete incident investigations and identify effective workplace safety improvements to reduce the likelihood of a recurrence. For these reasons I would recommend this qualification to anyone who gets involved with incident investigation.
For the past 10 years you have worked for Accord Healthcare. Can you tell us a little about the company's operation?
Headquartered in the United Kingdom, Accord Healthcare is one of the fastest growing pharmaceutical companies in Europe. It has one of the largest market footprints of any European generic and biosimilars companies, selling generic medicines in over 80 countries around the world. This global footprint enables us to deliver vital, affordable medicines to national health systems, supporting healthcare professionals to transform patient lives worldwide. Accord is driven to think differently and deliver more for the benefit of patients worldwide.
Your role was initially focused on facilities management but has broadened over time to include business continuity. Would you share what your role and responsibilities entail?
Facilities management is a key stakeholder in business continuity planning, so it made sense for our business continuity management system (BCMS) to sit within facilities. I oversee and lead on the BCMS, ensuring that the various departments' continuity plans are kept up to date. I provide training, support and guidance for those responsible for business continuity within departments and arrange practice exercise too.
COVID-19 has been a significant business continuity event for businesses. When this new threat emerged, my organisation was able to respond swiftly because of the horizon scanning and planning that had taken place previously. Several weeks prior to the pandemic, we completed an exercise to plan and prepare for elevated flu levels following a higher-than-normal flu season in Australasia. This work meant that we had a plan that we were able to adapt when COVID-19 made its presence known in Europe.
One of the key take aways from the pandemic, is that an organisation's business continuity planning needs to be flexible so they can be adapted to an emerging threat. If plans are too rigid, they may fail when you may need it the most.
You recently completed the NEBOSH IIRSM Certificate in Managing Risk. Would you mind explaining:
Why this qualification appealed to you?
I recognised that my understanding of risk management had a narrow focus; generally covering health and safety and business continuity. When I saw this qualification, I felt it would give me the opportunity to broaden my understanding and application of effective risk management. As the qualification was jointly developed by NEBOSH and IIRSM, I knew that it would be of a high standard, informative and that I would learn from it
It was good –it met my expectations and 'did what it said on the tin'.
What did you gain from completing this qualification?
Completing this qualification did what I hoped it would in that I have broadened my knowledge and understanding of risk management. I am sure that the course content will help me to be more effective in my risk decision making.
If you would recommend it to others and why?
I would definitely recommend it to anyone involved in risk management. Not only is effective risk management a transferrable skill; this is a really relevant qualification for anyone with specialist risk expertise such as health and safety or quality, who wishes to gain a broader understanding of risk.
Given your experience, what do you think is needed to be effective in managing risk?
Effective risk management cannot be done in isolation – Without exception to achieve an informed decision, the right people need to be around the table. This is my first tip, identify who needs to be involved in making a decision to ensure all aspects are considered when reaching a solution.
Communicate, communicate, and communicate! - This might have to be done in a variety of ways using different methods – but make sure it happens as part of the process. You need to communicate to all the audiences who will be affected by any decision.
Checks and balances – managing a risk is not something you do once. Regular monitoring and checks should take place to ensure that the controls are still effective. If you discover they are no longer appropriate they can be tweaked accordingly.
What advice would you give to someone who is considering either health and safety or risk for a career?
Build your knowledge through experience and training - NEBOSH qualifications are a great choice because they are widely recognised as being qualifications that health and safety professionals should aspire to. The NGC is a great starting point because it provides a good foundation to build upon. I would also recommend that anyone trying to break into the industry find opportunities, for example through volunteering for extra duties at work, to gain experience and apply the theory.
Find a good mentor - There are terrific mentoring opportunities within membership bodies such as IIRSM, IOSH, and BCI. You will find experienced and friendly professionals who are willing to help and support you on your career journey.
Continuous professional development - NEBOSH qualifications and continuous professional development have supported me being a Chartered member of IOSH, and a Fellow member of the IIRSM and it all started with me taking the NGC.