Highest mark may help a new beginning
Case Study: Duncan Gow - Royal Navy
Duncan Gow has spent quite a lot of time inside a nuclear fuelled confined metal space around 1,000 feet below the surface of the sea. No wonder he's interested in safety!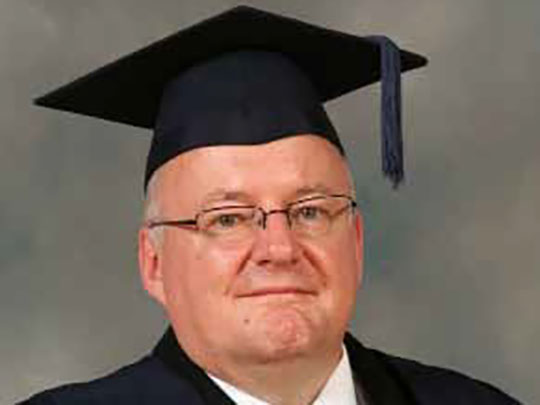 Duncan joined the Royal Navy 32 years ago after leaving school aged 18. He was interested in engineering, but a suitable apprenticeship wasn't easy to find at the time, so he decided he would try the military instead. A visit to the Naval recruiting office in Aberdeen paid off. He started a four year engineering apprenticeship, which also involved time at sea.
After completing his apprenticeship he went straight into submarines. He admits the submarine environment doesn't suit everyone. But even during what he describes as the occasional "challenging situation" he insists he never once felt unsafe.
Duncan puts this down to the extensive training process everyone in the Royal Navy must go through before working on submarines, a large chunk of which is all about health and safety. Well practised procedures and know how encourages confidence, he says. During his time on submarines his Naval career progressed and he eventually took on a supervisor role.
Seven years ago in 2005, Duncan was offered a health and safety role in the Naval docks in Plymouth, working alongside private contractors. Principally, he provided a safety liaison link between "uniformed" and "civilian" workers. Duncan says this gave him a great opportunity to broaden his knowledge of health and safety.
He decided it would be a good time to supplement this with formal qualifications. Within 18 months he had passed both the NEBOSH Certificate and Diploma in Occupational Health and Safety. More recently he served as the Waterfront Safety Officer at HM Naval Base Clyde in Scotland.
A couple of years ago, Duncan began to think about what he would like to do when he leaves the Navy. Aberdeen is where he wants to return and he would also like to continue working in health and safety. Inevitably, his thoughts turned to the oil and gas industry. His engineering knowledge of high pressure system and so on, coupled with his experience of isolated environments makes him well-suited to this civilian career.
However, Duncan realised he might need more than this to stand out from the crowd. Which is why he took his NEBOSH International Technical Certificate in Oil and Gas Operational Safety. Not only did Duncan pass, he achieved the highest mark of 2011/12, an achievement which was recognised with an award at the 2012 NEBOSH Graduation Ceremony.
His final day in the Royal Navy is 1 January 2013. Finding a career in a new industry is never easy. But with his background, qualifications and recent outstanding achievement, Duncan has given himself every chance. Good luck!
---