Driven to be the best!
Case Study: Mark Heggs - University of Leicester
Mark Heggs has many achievements to his name, and when you ask him what lies behind his success its an ambition to be the best and deliver to the best of his ability.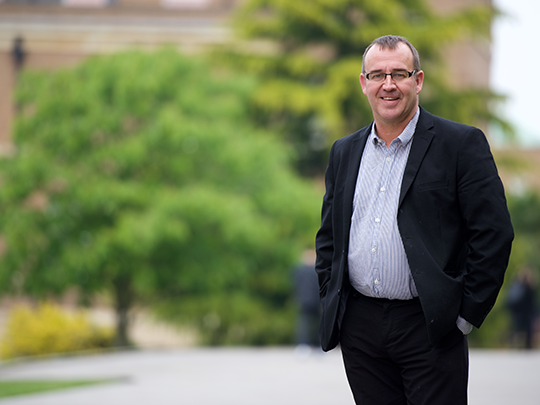 "For me, everything has to be spot on," said Mark. "It's just the way I am. If it isn't spot on, it bothers me and plays on my mind."
This has been Mark's work ethos throughout his career. When Mark first left school, he was employed as an apprentice bricklayer and over time worked his way up to become a Site Manager. His tenacity and attention to detail were perfect attributes for this role and he excelled. Mark's ability was noticed and he was awarded the much coveted 'Site Manager of the Year' award by his employer, one of the UK's leading house builders.
Mark has continued to progress and is now employed as Clerk of Works at the University of Leicester. The University campus has over 24,000 students across numerous campus buildings (residential, leisure and educational). Mark is responsible for ensuring that all building work is carried out safely and uses materials that meet quality and safety standards, and conform to client specifications. He also monitors progress and ensures that projects are delivered on budget and on time.
The same attributes which saw him excel as a Site Manager make him the perfect candidate for a Clerk of Works role. But don't just take our word for it! In 2011, Mark collected the Institute of Clerks of Works and Construction Inspectorate
(ICWCI) 'Building on Quality Award' and was commended by the organisation.
Mark decided to take the NEBOSH National General Certificate in Occupational Health and Safety in 2014 because he and his employers recognised how important health and safety is to the role: "Everything in this kind of work has to be centred around health and safety. When you look closely at the Building Regulations, for example, they're all about safety."
Mark studied hard and was successful. "I put in the time I needed and was pleased when I passed the NEBOSH General Certificate. I enjoyed studying it so much I decided to take my NEBOSH studies further. I went on to take and pass the NEBOSH National Certificate in Construction Health and Safety. NEBOSH teaches you how to take a brief and understand what is required. It gave me the confidence and passion to learn."
Completing these NEBOSH Certificates whetted Mark's appetite for learning and he has since completed an MSc in Building Surverying at the University of Northumbria. Mark believes he would not have had the confidence and self-belief to sign up for this if he had not taken his NEBOSH qualifications.
He explained: "NEBOSH not only teaches you a lot about health and safety, but also a lot about yourself. I wouldn't have done my Masters without NEBOSH. Not just because of the confidence it gave me, but because I found it all so fascinating. I ended up almost addicted to learning, studying and revising. It gave me a real enthusiasm. Yes I was really nervous about taking my Masters because I didn't want to let myself or the university down, but now here I am with an established set of qualifications that are recognised everywhere."
Mark is now planning to enrol on the NEBOSH National Certificate in Fire Safety and Risk Management, as he feels that he is ready for a new challenge.
We wish you the best of luck for your studies Mark!