'Dream come true' for NEBOSH's first Bruneian Diplomate
Case Study: Calvin Lo
Calvin Lo is very proud to be the very first resident of Brunei to have passed the NEBOSH International Diploma in Occupational Health and Safety.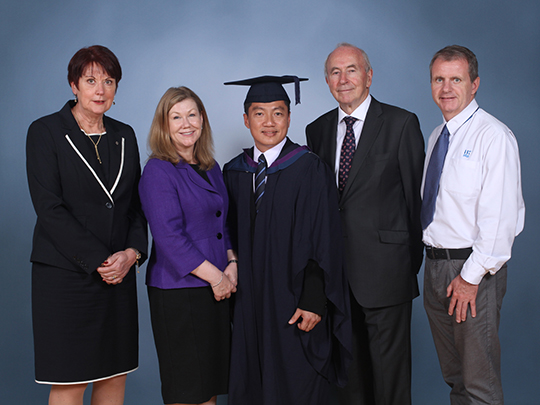 Brunei is a nation of only 400,000 people located on the island of Borneo in Southeast Asia. Despite it's size, Brunei is wealthy thanks largely to its oil and gas industry, which represents over 90% of Gross Domestic Product (GDP). Other industries are also expanding, particularly construction, which employs a large proportion of migrant workers.
Around seven years ago Brunei's local Government Labour Department raised concerns about the increasing rate of accidents, fatalities and work-related illnesses. Ultimately, this led to the introduction of the country's Workplace Safety and Health Order in 2013 which seeks to eliminate or control workplace hazards.
Calvin Lo, an automotive consultant at the time, recognised this strong shift in focus towards health and safety in Brunei. "I decided it was a good time to diversify the skills I'd learned in other areas and upgrade myself to become a professional advisor in the sector," he told us.
In his teens in the 1990s, Calvin worked as a Ship's Cadet Officer on a container vessel, where he says he learned a lot about teamwork and mechanical engineering. Back on land, he assumed the position of a technical supervisor, working his way up through the ranks over a period of 12 years to become a branch manager in charge of 45 personnel. A further 5 years in the position taught him a lot about business management, leadership, the formation of policies and procedures, as well as some aspects of health and safety.
In 2006 Calvin became a partner and general manager at a different automotive firm, where he extended his budgeting, planning and development abilities.
He then took the plunge and formed his own consultancy business, advising the automotive industry in Brunei. Calvin's business was doing well. However, in 2014 he recognised that the introduction of Brunei's new high profile health and safety legislation provided him with further opportunity. Calvin's existing clients in the automotive industry would need occupational safety and health support.
"I realised I needed to advance my knowledge significantly to offer this, so I began with the NEBOSH International General Certificate in Occupational Health and Safety, followed immediately by the NEBOSH Certificate in Environmental Management. Finally, I completed the NEBOSH International Diploma in Occupational Health and Safety in early 2016."
Calvin's consultancy focus has now shifted its focus and provides environmental, health and safety (EHS) support to a wider range of industries. He says that as well as the obvious benefits of knowledge and practical application he has gained through his Diploma and other NEBOSH qualifications, they have also helped him become a member of IOSH, IIRSM, CIWEM and IEMA.
"Being able to use the post nominals IDipNEBOSH, GradIOSH, MIIRSM, TechCIWEM and AIEMA really means a lot to me. It indicates competence and offers recognition as an EHS Advisor & Technical Consultant. Ever since I graduated with the NEBOSH Diploma, my clients have gained more confidence in me, which has helped my consultancy business to expand."
Calvin took a 14 hour-long direct flight to the UK in June 2016 solely to attend the NEBOSH Graduation Ceremony: "The feeling at Graduation was like a dream come true, especially being the first Brunei resident to be awarded the most sought after NEBOSH qualification. NEBOSH is the key to an internationally recognised occupational, safety and health career path, so who wouldn't want it?"
How has your NEBOSH qualification helped you? Email us with your story: marketing@nebosh.org.uk.