Double Award winner given 'major confidence boost'
Case Study: Claire Dustan - Marshall Aerospace
This year NEBOSH introduced a brand new 'Young Person's Award' for the best under 25 National General Certificate in Occupational Health and Safety candidate. Claire Dustan, not only scooped this title, but also won our award for best overall candidate for this qualification. We talked to Claire about her achievement and career so far…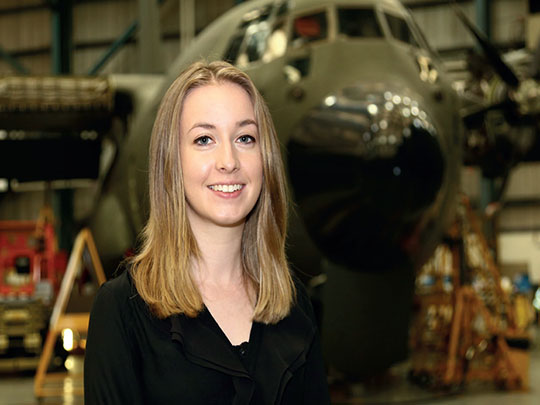 According to Claire Dustan, when she decided against going to university after her A levels she had concerns whether she was doing the right thing. But the career she's now following and the incredible start she's made with her NEBOSH studies have put these concerns to rest.
Claire, now 25, works at Marshall Aerospace and Defence Group as Lead Health, Safety and Environment Coordinator. The company provides maintenance, repair and overhaul services for military and commercial aircraft at its base at Cambridge airport. Claire says its an exciting and interesting place to work. Her father is an ex-RAF man, so is particularly delighted to see Claire working there.
Although Claire's family has a history of working in aviation, it wasn't a career path she expected to follow. "I was pretty sure I wanted to go into nursing," she told us. "But at 18, I decided to avoid thousands of pounds of debt and to look for a job instead of a degree."
The first job opportunity to spark Claire's interest was for a Health and Safety Administrator. "It appealed to me because I still wanted to find a role that was to do with protecting and caring for people." explained Claire.
She got the job and soon set her sights on a more senior role. As there was no opportunity for progression with her first employer, she looked elsewhere and saw an advert for an administrator position at Marshall. At the interview she asked about progression and was told there would be opportunities, but that she would first need to pass the NEBOSH National General Certificate in Occupational Health and Safety.
"That was exactly what I wanted. I joined and began my studies pretty much straightaway. There was a lot of information to take in and I studied hard. I was pleasantly surprised by how much I could relate what I was learning through NEBOSH to Marshall, even though aerospace is quite specialist. It helped me a lot to kick start the progression I was looking for."
Of course, Claire did not just pass. She came out with top marks overall and achieved the first ever NEBOSH Young Person's Award. This was presented to her at the Safety and Health Expo in London and then within a matter of days she received her Best Candidate Award at the NEBOSH Graduation Ceremony. Proud moments for Claire, her parents and her employers. Aside from the recognition, her achievements have provided a huge confidence boost. Claire is now a Health and Safety Coordinator at Marshall, ensuring good practice is followed in an environment where working at height and in confined spaces with heavy machinery are every day hazards.
"I really enjoy working with people and at Marshall we have an interesting mix of ex-RAF and civilian staff. I guess with the type of industry it is, it could be seen as quite intimidating for a young woman whose role involves keeping on top of procedures. But it's not like that. With the backgrounds people have here at Marshall, everyone is respectful and to be honest I think achieving my NEBOSH qualification and the two awards has added a little more to that, which is nice."
Claire is already considering her next step, which will either be a NEBOSH Certificate in Environmental Management, or the NEBOSH National Diploma in Occupational Health and Safety. After such an impressive start, we are 100% certain that Claire has a blossoming and successful career ahead of her.
How has your NEBOSH qualification helped you? Email us with your story: marketing@nebosh.org.uk.