Do you ever wonder why?
Case Study: Phil Davies
"All knowledge meets an end at the question… Why?"
Criss Jami, Poet

Why and how are both questions that Phil Davies would often ask as a young boy. At school his inquisitive nature always meant that he wanted to know not just what happened, but how and why.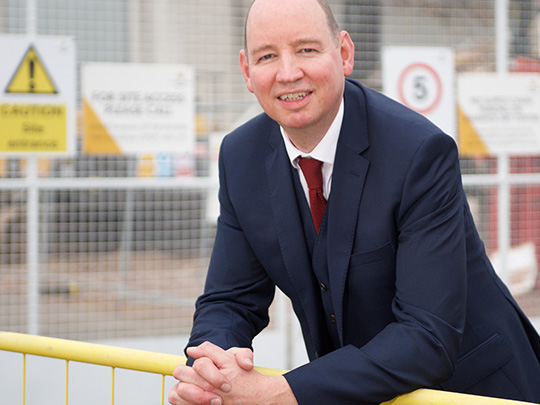 School was almost 30 years ago now for Phil and since then his thirst for knowledge has led him to a profession and level of academic achievement which now brings him "absolute fulfilment".
Phil laughs when asked about his early career. He dismisses this time as "working hard, but without a clear direction". However, when working as a supervisor for a national logistics company, Phil was presented with the opportunity to take responsibility for health and safety in the warehouse. He was clear about what he needed to do: "I knew that a qualification was required to undertake the role effectively, so I presented the Regional Director with a business case requesting that the company funded my NEBOSH National General Certificate course, which they agreed to. And so my involvement in the profession began."
Then came a career curve-ball. Whilst Phil was in a Health and Safety Officer role that he'd gained off the back of his NEBOSH National General Certificate in Occupational Health and Safety, he became a retained firefighter. "I joined Bedfordshire Fire and Rescue Service as a retained firefighter and a year later I became a full-time firefighter with the London Fire Brigade."
"After six years as an operational firefighter, safety came back full-circle when I was promoted into a fire safety inspection role and then into a position as a Primary Authority Scheme Lead Officer. This involved advising on the fire safety policies, procedures and strategies for commercial organisations and residential social landlords that had partnered in the scheme".
Phil loved the role because it brought him up to a level at which challenging accepted norms and beliefs was an essential part of his strategic decision making. Naturally, he wanted to get better at this; in particular he wanted to get better at asking why and finding answers.
Having worked closely with some of England's largest providers of social housing, Phil left the London Fire Brigade to work for one as a Health and Fire Safety Advisor with responsibility for over 100 sheltered accommodation blocks. Phil explained: "I regularly met fire safety inspection officers and had discussions around safety climates and how they can affect particular building types. It was during these discussions that I realised my knowledge of safety culture and all the existing literature focused on commercial environments, and so I had nothing to support my thoughts on the subject of domestic environments other than my experience."
This was why he then embarked on a NEBOSH and University of Hull Master of Research (MRes) degree in Occupational Safety and Health in 2017.
"It was a revelation for me," said Phil. "Not least because I was able to choose the question for my degree! I'd spotted a gap in research around the impact of culture on fire risk, both from a management and a building occupant's perspective. I knew there was a safety culture in a domestic setting that had a specific impact on fire safety. But significantly, in order to improve fire safety conditions in general I would need to know how, and why! In terms of self-development, not only was I finding the answers to my questions but I was learning skills that are hugely important in my profession, including how to carry out a literature review, interview techniques, independent evaluation, and the ability to scrutinise and make appropriate judgement."
He added: "For anyone who has reached Diploma level, a Master's is a terrific next step. If, like me, you find that the knowledge you have already simply leaves you with more questions than you had before, then a Master's has to be next. It won't just help you to answer that all important question 'why', but it will also help you understand how to ask it."