Diploma exam 'As satisfying as climbing Everest'
Case Study: Steven Low - Fugro
"As satisfying as climbing to Mount Everest base camp" is how Steven Low recalls completing his NEBOSH International Diploma exams two years ago. And he should know. Steven has previously made the trek to Everest base camp at 5,364 metres, and has also climbed Mount Fuji in Japan and Mount Kinabalu in Malaysia.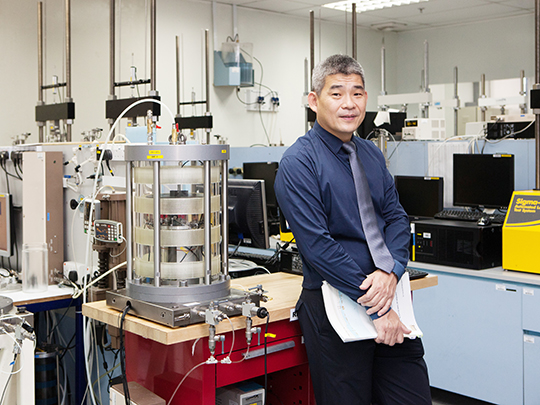 Steven, 48, is QHSE Advisor at Fugro Singapore Pte Ltd. His employers specialise in geotechnical services at sea and on land. Activities involve drilling offshore and then providing laboratory based sub-surface analysis to the oil and gas industries. Likewise, Fugro analyse soil samples on land and provide guidance about foundation design ahead of major construction projects.
It is all very technical stuff, can be hazardous on occasions and there are a wide range of risks to manage. Steven ensures his employers meet relevant international standards such as ISO 9001, ISO 14001, OHSAS 18001 and ISO/IEC 17025. However, what makes Steven most suited to working in health and safety is his passion for "looking after colleagues and ensuring they go home safely to their families at the end of the day."
Before joining Fugro in 2002, Steven worked in construction. A graduate in structural engineering from Singapore Nanyang Technological University, he worked as a project manager. At the time he took several courses to improve his skills, including the Singapore Safety Officers Training Course. It was then that a tragedy propelled Steven into a full-time safety role.
A number of fatalities led to a comprehensive review at his previous employer, a shift in attitude and a request that Steven take on overall responsibility for health and safety. Having completed the Safety Officers Course, he was entitled to become a registered Workplace Safety and Health Officer, something required by the Ministry of Manpower in Singapore to perform such a role. The process and policies he implemented completely turned the reputation of the company around and ultimately led to them receiving national safety awards.
Steven gained his NEBOSH International General Certificate and International Diploma qualifications after joining Fugro. Fugro operate in over 60 countries and so it was here that Steven became aware of the increasingly global nature of health and safety management.
He told us his NEBOSH qualifications "revitalised his mind and rejuvenated his passion for health and safety." Steven added that he values his qualifications for two key reasons. The first is how he finds they are instantly recognised by international clients and stakeholders. "NEBOSH boosts customer confidence in HSE and also enhances the company image in terms of professionalism," he explained.
Secondly, Steven believes being NEBOSH qualified provides him with better job security. "Having an internationally recognised qualification lessens the threat from increasing globalisation of the profession. It gives you more certainty in terms of your overall status." Steven has used his Diploma to good effect in this regard, as it has also allowed him to become a Chartered Member of IOSH.
As for the future, he is very happy in his current role and plans to continue bringing Fugro HSE performance to greater heights, but at the same time he recognises that an International Diploma has the potential to open doors to wider opportunities. He concluded with a quote: "It is better to be prepared for an opportunity and not have one, than to have an opportunity and not be prepared."
Wise words.
How has your NEBOSH qualification helped you? Email us with your story: marketing@nebosh.org.uk
International General Certificate in Occupational Health and Safety
International Diploma in Occupational Health and Safety