Diamond Diploma student scoops Best Candidate Award
Case Study: Jessica Disney - Diamond Light Source Ltd
Paving the way in scientific research is no easy task. But for health and safety professionals working at one of the world's leading research facilities, it presents a whole new set of challenges.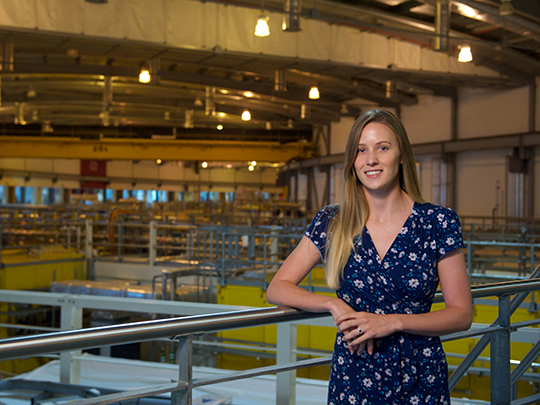 Jessica Disney works at Diamond Light Source in Oxfordshire, the UK's national synchrotron science facility. The synchrotron is a machine 10,000 times more powerful than a traditional microscope. Measuring over half kilometre in circumference and emitting light 10 billion times brighter than the sun, it is a hugely sought after facility. Over 7,000 researchers from academia and industry have travelled from all over the world to make use of its capabilities.
The work carried out there supports everything from the development of new medicines and treatments for disease to innovative engineering and cutting edge technology. Funded by the UK Government through the Science & Technology Facilities Council (STFC) in partnership with the Wellcome Trust, it makes a valuable contribution to all sorts of research activities.
So, as you might imagine, the people who work there are a clever bunch – and not just the scientists! Jessica, who is a Safety, Health and Environmental (SHE) Advisor there, recently discovered she had achieved the Best Candidate Award out of all those who passed their NEBOSH National Diploma in Occupational Health and Safety in 2016/17. It's an achievement that she and her colleagues are quite rightly proud of, although Jessica rather modestly puts it down to "simple hard work" rather than any kind of special talent.
"I've never been one of those people who is naturally clever, but I always try to put in maximum effort so that whatever my result is I know it's my best," said Jessica. "With the Diploma I knew I had done well because I got a distinction, but I was really surprised to be announced as an award winner. I've never been top in anything before!"
Guy Thomas, Head of SHE at Diamond Light Source and a fellow NEBOSH Diploma holder, was full of praise for Jessica: "We are all very proud of her achievement. She worked incredibly hard for it and, having completed the NEBOSH Diploma myself, I know what an achievement this is."
Guy added that having a team that is professionally qualified is very important to the organisation: "You have to be very technical to work here. Yes, we have all the everyday hazards you would expect in a workplace, but as you can imagine there are also many unusual issues to be managed here. Having someone technically competent like Jess is essential, and we can't ask for more than a Best Candidate Award really."
Jessica, who also holds a NEBOSH General Certificate in Occupational Health and Safety and Certificate in Environmental Management is now considering her next step. "I may take a Masters qualification or perhaps the NEBOSH National Diploma in Environmental Management. I know there is a Certificate in the Management of Health and Well-being at Work too," she told us. "My employers are hugely supportive and I really do enjoy learning."
Whatever Jessica chooses to do next we're sure she will succeed!
How has your NEBOSH qualification helped you? Email us with your story: marketing@nebosh.org.uk.