Delivering on safety
Case Study: Brad Pettman - Royal Mail
At just 27 years of age, Brad Pettman is already rising through the health and safety ranks of one of Britain's biggest employers, the Royal Mail.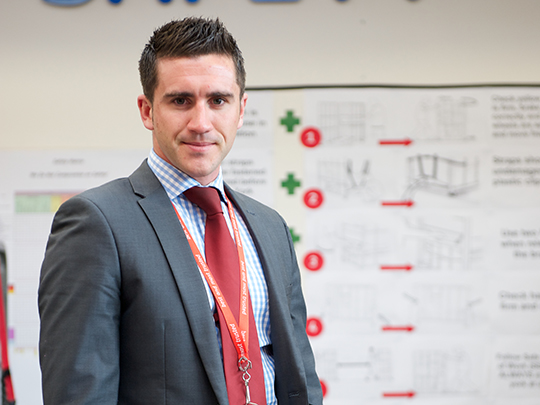 Brad is a Senior Safety Advisor for the Royal Mail's south east region and looks set for a bright future with the company. After leaving school aged 16, he managed to find what was, at first, a temporary position as a postman. From there he was asked to join the Royal Mail's apprenticeship scheme, which at the time involved around 2,000 apprentices across the UK.
Brad stood out. He won an award as part of the programme for 'outstanding contribution' and was also awarded by City & Guilds for the commitment he had shown as an apprentice. Management training followed, with Brad gaining experience in various roles from processing to deliveries. After working as an assistant to a regional director, he became a depot manager.
It was at this stage that Brad's acumen for health and safety began to show. He has a strong belief that everyone should be safe at work and this led him to work closely with both the Royal Mail's health and safety management team and trade unions to improve the safety record of the depot he had been assigned to. Following an incident free year, Royal Mail's Regional Safety Director began to recognise Brad's interest in safety and suggested he take the NEBOSH National General Certificate in Occupational Health and Safety.
The timing could not have been better. Just one month after Brad passed his National General Certificate, the position of Senior Safety Advisor became available. Royal Mail has a strict approach to qualifications when it comes to health and safety. So even though Brad's record on safety had been excellent, he could not have become a Senior Safety Advisor without his National General Certificate. He applied and got the job.
Brad says his National General Certificate not only helped him gain promotion, but also gave him confidence in his new position.
"Before I took my National General Certificate I had a sense that what I was doing was right because the numbers were improving." he told us. "But the qualification gave me so much more, such as the legal aspects and how to put the theory I'd learned into practice."
For now Brad is very happy in his role. He's being personally mentored by the Royal Mail's Group Director of Safety, Health and Wellbeing, Shaun Davis, who Brad says is providing him with "invaluable experience and insight" into all areas of management.
He adds that his job title often raises a few smiles. "When people hear 'Senior Safety Advisor' they often ask 'where's the old guy?' when I walk in."
Brad certainly has age on his side, and having also now started working towards a NEBOSH National Diploma in Occupational Health and Safety, the future looks bright. Ultimately he says he wants to become a Regional Safety Director. "It's something I would love to do, but anything in safety is really what I want to be involved with."
How has your NEBOSH qualification helped you? Email us with your story: marketing@nebosh.org.uk.