When you're looking for something 'different within'
Case Study: Claire Sully - Hain Daniels
Ever feel like things are getting on top of you and you need a change? Of course you do! We all feel that way every now and then and usually a holiday is what it takes to get us all refreshed and back on track.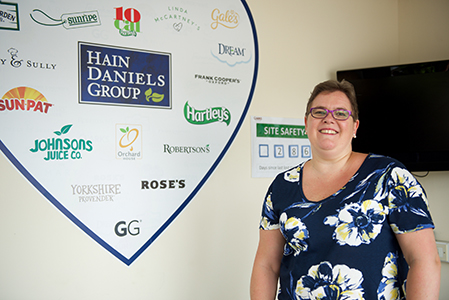 However, when work becomes overwhelming and we feel there's no escape, it can start to build into stress and anxiety. It's a red flag we all need to be aware of and it was something that crept up on Claire Sully around 12 months ago.
"I kind of crashed and burned a bit last year," Claire told us, openly. "I'd been working in food manufacturing for almost 20 years and had already started to think I needed some kind of career change and then it all started to get on top of me."
Claire was working as a Production Manager at the time, but because of her years of experience she had also taken on other responsibilities around training and health and safety.
"My husband also wasn't well at the time and there'd been a lot of changes at work, because of a buy-out, and I guess I just kind of blew up and said 'I can't do this anymore'."
Fortunately, Claire's new employers, The Hain Daniels Group, which is the company behind many well-known brands such as New Covent Garden Soups, Linda McCartney's, and Clarks sees safety and the well-being of its people as paramount. As a result, her role was split in two and she went into health and safety and training full-time.
"It was ideal. I really didn't want to have to leave food manufacture, after all it's what I've done most of my life. But now I've got the best of both worlds and my work is more manageable and really enjoyable. Our CEO always puts safety at the top of the agenda, so it's an area where there is so much focus here."
One thing Claire did have to do as part of her new role was gain the NEBOSH General Certificate in Occupational Health and Safety: "It was just what I needed, to be fair. Of course, experience can give you a lot, but the NEBOSH Certificate gives you the real technical whys and wherefores, as well as that all-important practical element. On top of that, it's helped my confidence. You really feel you've been given the tools to back everything up and also that credibility that NEBOSH has with everyone.
"Overall I have a new impetus and a real willingness to learn more. It was just what I needed. It may sound odd, but if you're looking for a change, but don't really want to change then a NEBOSH qualification and a career in safety can be the way to go. I've been able to find something different within and it's certainly worked out perfectly for me"
She added: "Hain Daniels have been brilliant opening up this new opportunity for me. It's amazing what difference a year can make!"