Imagine If 82,000 People Kept Coming to Your Office
Case Study: Chris Powley - RFU
Chris Powley works in an office. He is a Health and Safety Manager and has around 350 work colleagues. Sounds fairly run of the mill, doesn't it?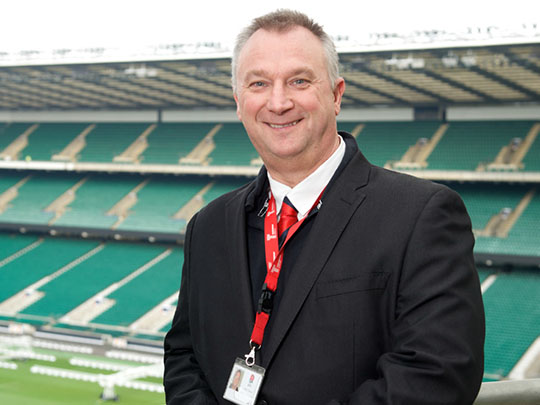 Except Chris is employed by The Rugby Football Union (RFU) and his office is at the famous Twickenham Stadium. So he has quite a responsibility, especially on match days when up to 82,000 spectators come along to cheer-on their club or country. The RFU is a non-profit organisation that in recent years has completely modernised and now takes a business-like approach to all of its activities. Twickenham has conference facilities and is also a major concert venue, recently hosting the likes of Rihanna, Lady Gaga and the global 'Sound of Change Live' event, which was broadcast throughout the world.
Chris has to manage health and safety for all of this and more. As the governing body for grassroots and elite rugby in England, The RFU has around 2,000 rugby clubs in its membership. In addition to its Twickenham staff, it employs 50 Rugby Development Officers, 6 Area Managers and 120 Community Rugby Coaches across the country who provide some 30,000 coaching sessions a year for young people.
So when Chris began working at Twickenham in 2012, it's fair to say he took on quite a task. He got the job on the strength of his many years of experience and, of course, his NEBOSH qualifications. He holds both the National General Certificate in Occupational Health and Safety and the NEBOSH National Certificate in Fire Safety and Risk Management. "I definitely wouldn't have got the job without NEBOSH," he told us.
He has turned his knowledge to good use at Twickenham, helping the RFU implement a health and safety management system that meets the OHSAS 18001 standard. His job is varied including designing and delivering training, completing audits, managing a huge array of contractors and ensuring compliance.
Interestingly Chris started out his working life as a bricklayer. Health and safety was not at the top of his priority list or that of anyone he worked with at the time. He believes this has actually helped to give him a realistic outlook on health and safety. "I understand why people don't always comply, because to be fair, I've been there, done that and bought the t-shirt," he said.
All that changed when he joined a media firm to provide maintenance support more than 20 years ago. Chris said: "The Company became hugely successful almost overnight, and the management team needed someone to focus on health and safety so they asked me to take it on. I went on to manage safety at a large manufacturing plant in Slough and eventually, after several takeovers by American companies, I looked after health and safety throughout Europe."
With so much to manage now at Twickenham, we asked Chris what was the secret behind his approach. He explained the key was one of The RFU's core values - 'teamwork'.
Chris understands rugby; he used to play when he was younger. "Rugby players operate collectively" he explained. "To manage health and safety here, it's all about getting people involved, whether it's the 1,000 stewards on a match day or our coaches. We teach them how health and safety is part of everyone's role; it becomes natural and they almost do it now without realising it.
"It's funny, rugby is a fiercely competitive game, but it also has a really strong culture of respect for people and teamwork, which I think is a crucial part of a strong health and safety culture too."
Many important high profile games are played at Twickenham. As an international organisation it would of course be unfair for NEBOSH to support any particular team, but through Chris and his colleagues we can certainly hope that health and safety wins every time.
Chris is now planning to take his NEBOSH Diploma in the near future and we wish him all the best with his further studies and his ongoing career.
How has your NEBOSH qualification helped you? Email us with your story: marketing@nebosh.org.uk.