Charity worker recommends NEBOSH for everyone
Case Study: Jan Stanislas - Cancer Research UK
In the UK, more than 350,000 new cases of cancer are diagnosed each year. That's as many as 960 new cases every day, which is why the work of charities such as Cancer Research UK is so important.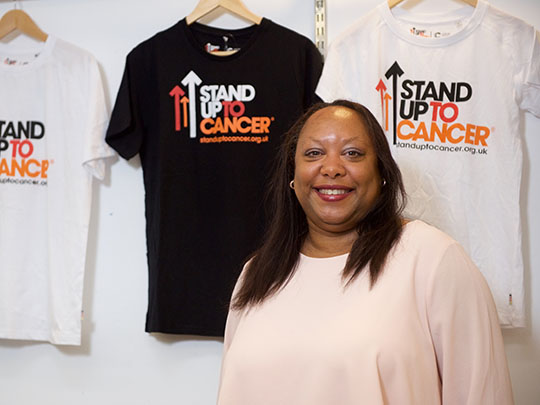 Cancer Research UK is one of the world's leading charities dedicated to beating cancer through research. Cancer survival rates are improving and have doubled over the past 40 years in Britain. Now half of people diagnosed will survive for ten years or more. There is little doubt that the work of Cancer Research UK has saved millions of lives through the discovery of new ways to prevent, diagnose and treat cancer.
The charity relies solely on donations and fundraising to carry out its work and with that comes a sizeable infrastructure. In the UK it has almost 600 shops, which are operated mainly by volunteers. Like any organisation, this brings a range of health and safety hazards that both morally and legally need to be well managed, and this is where Jan Stanislas comes in. Jan is part of the health and safety team at Cancer Research UK. As a Health and Safety Officer she helps its network of charity shops to achieve compliance and maintain safe systems of work.
One of the initiatives that Jan is heavily involved with is called 'keep it simple'. It aims to make health and safety policies and procedures easier to understand and apply by simplifying them. The initiative is proving to be a huge success and has led to the adoption of a more consistent approach to health and safety.
"It's really good working here," Jan told us. "I've worked in the charities sector for quite a few years now, and coming here is a big thing for me to be honest. They do wonderful work and it's a great feeling to be a part of that.
"Cancer Research UK is all about helping people at the end of the day, and so is health and safety. Our part is making sure that the people who volunteer and work here do so safely."
Jan brought wide-ranging skills to her current role, thanks to a varied career. She has an IT degree, has worked in health care, and holds an NCFE level 3 Diploma in Counselling -something she continues to use in voluntary capacity.
Her first introduction to health and safety came as part of a temporary administrative role, where she began to pick up the basics. Then, while working with another charity, she took a course leading to the NEBOSH National General Certificate in Occupational Health and Safety.
"The NEBOSH Certificate was a real eye-opener for me. I learned a great deal and found that I could put it into practice immediately when I returned to my workplace. I've been in health and safety roles ever since and having a NEBOSH Certificate has certainly helped to open up bigger and better opportunities for me. Without the qualification I wouldn't have got this job at Cancer Research UK, for example."
Jan strongly recommends the NEBOSH General Certificate in Occupational Health and Safety to colleagues, whether they work in health and safety or not.
"As health and safety now features in so many operational roles, I think having knowledge and experience of it has become very desirable. Holding a NEBOSH qualification offers extra gravitas that attracts employers and really opens up doors." Jan explained.
We wish Jan and the rest of the team at Cancer Research UK continued success and thank them for making a difference.
How has your NEBOSH qualification helped you? Email us with your story: marketing@nebosh.org.uk.