Changing perceptions in the City of Durban
Case Study: Thomas Francis
Durban is South Africa's third largest city and is also the largest and busiest shipping terminal in sub-Saharan Africa. Known as "The Kingdom of the Zulu," the City of Durban is a lively, cultural melting pot. It is also where NEBOSH Alumni member Thomas Francis grew up.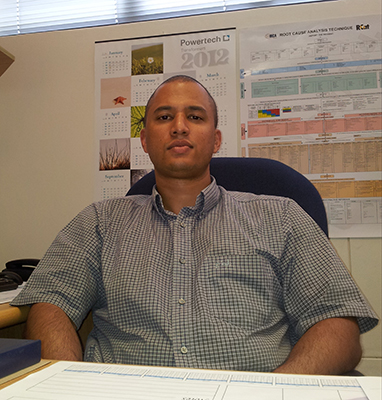 Thomas started his career in 1996 as an Apprentice Electrician with the City of Durban's Electricity Department. This department is responsible for the construction and maintenance of all transmission and distribution electrical networks throughout the city and the surrounding areas. His manager at the time encouraged him to pursue a career in the SHE field, after recognising Thomas' passion for workplace health and safety. After 15 years in field operations, Thomas assumed the role of Chief Safety Officer. In this role he is responsible for the overall management of all HSE related issues for approximately 2000 staff and 3000 contractors within the Department.
"My passion for health and safety grew after I realised the impact that workplace accidents can have on family life. My primary driver has always been to ensure that everyone returns home safely to their families at the end of every shift."
After investigating many workplace accidents, Thomas recognised that a cultural change towards health and safety was required. He realised completing a qualification that would enhance his own knowledge and skills would help him to achieve this goal, and in so doing safeguard more lives.
In 2012, Thomas passed the NEBOSH International General Certificate in Occupational Health and Safety with a Distinction. This was soon followed by the NEBOSH Certificate in Environmental Management which he passed with Credit and the NEBOSH International Certificate in Construction Health and Safety which he achieved with yet another Distinction.
After seeing the benefits derived from his previous qualifications, his employer supported him in enrolling for the NEBOSH International Diploma in Occupational Health and Safety. After many months balancing the demands of his job with studying, Thomas's hard work paid off when he passed the Diploma in 2017, achieving a Credit overall.
Thomas said "My NEBOSH studies allowed me to grow in confidence because the knowledge and skills gained were really relevant to my daily work. Major improvements have happened as a result and my organisation has seen the real benefits that can be achieved by improving workplace safety."
Thomas now encourages all of his safety team to develop themselves by studying NEBOSH qualifications. Thomas plans to continue his own studies in the future too and his sights set on the NEBOSH Masters in Occupational Health and Safety, which is deliver in partnership with the University of Hull. "Until such time, I continue to drive towards a safer, healthier workplace within my organisation and I know the value which NEBOSH has contributed towards this important goal."