Championing culture change at work and beyond
Case Study: Cynthia Maua Kenyanito
Cynthia Maua Kenyanito works as an Environment Health and Safety (EHS) Coordinator for Cargill Incorporated in Kenya. The company and its 155,000 employees focus on nourishing the world in a safe, responsible, and sustainable way.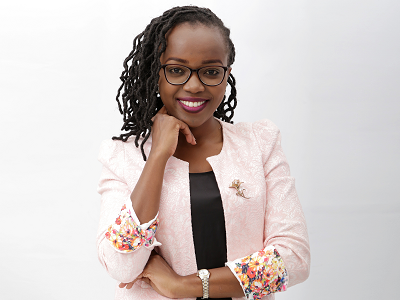 It operates in 70 countries and looks to connect farmers to markets, customers with ingredients, and people and animals with the food they need to thrive. In this interview we talk to Cynthia about her career and the part NEBOSH has played.
Since completing your degree in Conservation Biology that focused on sustainable resource use and environmental management, your career has evolved to encompass Health and Safety. Do you enjoy your dual role?
Absolutely! For me environmental management and health and safety are complementary disciplines which I think can be managed very effectively together. As I daily perform my duties, I do not think of it as a dual role. As far as I am concerned, I am just using my skills and abilities to improve the lives of my colleagues and wider society.
Zero harm is all about safe people, safe environment, and safe products. As the EHS lead for my location, I am tasked with championing culture change at work and beyond. I am happy that my role gives me the opportunity to make the world a better place and that this is not limited to the confines of my workplace.
Why did you choose to take the NEBOSH International General Certificate in Occupational Health and Safety? Did you enjoy it?
I have always considered myself to be a life-long learner. I have a curious mind and enjoy learning new concepts. When I signed up for the course, I was looking to gain more in-depth knowledge of the principles of health and safety. I thought the NEBOSH International General Certificate would help me achieve this and its international accreditation and recognition also appealed to me.
I liked that I had the option to complete the course by distance learning at my own pace. The training materials were interesting and informative and helped me gain the broader perspective I had hoped for.
Can you explain what your main responsibilities are usually and how they have changed due to COVID-19?
On a day-to-day basis, I am focused on the implementation of our company's policies and standards as well as other international best practices. I am tasked with managing our processes to ensure we do not expose workers to risks that could affect their health or safety. As the EHS lead, I am always looking for ways to positively impact the safety culture in my location.
The COVID-19 pandemic brought about many changes. I needed to rethink how things were done to ensure we complied with all social distancing requirements and kept everyone safe and well. As an EHS professional, I have had to keep myself up to date with the latest information from the World Health Organization as my colleagues have looked to me to provide sound advice throughout.
What do you enjoy the most about your EHS role?
I like that no two days are the same! I am constantly faced with new challenges to resolve, and this has helped me develop and grow. I find in this job I am constantly learning new things. I love that health and safety has made me more dynamic and flexible.
Are there any aspects of your job that you do not enjoy?
I enjoy everything about my job, but it does come with the recurring challenge of changing the attitudes of others. I often meet people who have very different perspectives to me on health and safety and its importance. It takes a lot of effort and patience to influence them, so they change this negative mindset. It is the biggest challenge I face but when I succeed it also brings the biggest reward because I know they will take better care of themselves and others as a result.
Of all your achievements to date, what are you most proud of?
I think it was being named SHP's International Rising Star in 2019. I received the Award because the judges could see my efforts were making a difference both in the workplace and to the wider community.
Knowing that I am having this positive impact in a community where the safety culture is still taking shape is sufficient reward but getting this recognition was still a great honour for me!
You are clearly a very ambitious person. What are your long-term goals and what steps are you taking to achieve them (e.g further study)?
I hope to one day become a Safety Manager with responsibility and influence beyond my country. I would love to get the chance to work with people from diverse groups across Africa.
I am working hard to make this long-term aspiration a reality. I dedicate 10 hours each week to studying EHS areas that interest me. I plan to enroll for my NEBOSH International Diploma in Occupational Health and Safety soon and I am certain this will help me achieve my goals!
I hope that in time my success will encourage young girls in the rural areas to follow their own dreams too!
What advice would you give someone considering health and safety as a career?
I would say go for it! To be successful in health and safety you must be prepared to work hard and be resilient. You also need to be able to work collaboratively as Health and safety professionals work with other functions all the time. If you want a rewarding career that gives you opportunities to make a difference every day EHS could be perfect for you!