Career choice motivated by desire to help others avoid tragedy
Case Study: Anas Abdelrauof - Project HSE Manager, Al Geemi and Partners Contracting Co. LLC
Anas Abdelrauof is a Project HSE Manager for Al Geemi and Partners Contracting Co. LLC in the United Arab Emirates. In this interview, Anas explains why he chose to pursue a career in Health and Safety and what he enjoys most about being part of the profession.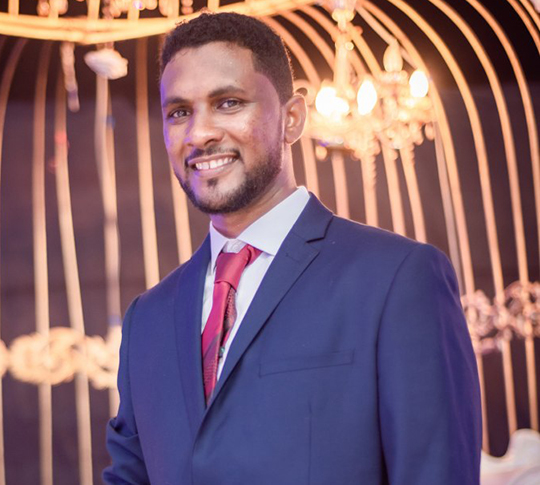 After completing your university degree in Engineering, I can see that you secured a HSE Engineer position. Why did you choose to focus on HSE specifically?
Like many others, it was a personal tragedy that first made me consider making health and safety my career. One of my brothers was killed in a road traffic accident and the devastation that followed made me want to stop others facing a similar tragedy. From that point onwards, I knew that I wanted to save lives and I thought working in health and safety would give me the opportunity to do this. I got my first HSE engineer role in Khartoum before I moved to the UAE and this experience confirmed it was the perfect career for me.
We are so sorry to hear that you lost your brother Anas and send our condolences to you and your family.
I can see it was shortly after relocating from Sudan to the UAE that you decided to complete the NEBOSH International General Certificate. Why did you choose this qualification in particular?
After arriving in the UAE, I investigated what I needed to do to secure a health and safety position here. After speaking to recruiters and reviewing job adverts, I found that the NEBOSH International General Certificate was specified as a candidate requirement for almost every health and safety role. When I found this out, the decision to take the qualification was made for me! I knew I needed to complete the NEBOSH International General Certificate and pass the assessment before my UAE health and safety dream could become a reality.
How has holding the NEBOSH International General Certificate helped you in your career?
After my NEBOSH success I was able to send an updated CV to the agencies, proudly stating that I now held the NEBOSH International General Certificate. As soon as I did this, I found that recruiters started to call me as I now met their clients' requirements to make the shortlist. In interviews, I could demonstrate the confidence and knowledge I had gained from my studies, and I quickly secured my first role here. From that point on, I have always been in work, which is great. The roles I have secured have tended to be in construction health and safety, so my engineering degree still helps!
I can see that in 2019, you secured your first management position with Al Geemi & Partners Contracting. Can you tell us a little bit about your role please?
I am working as project HSE Manager in the infrastructure sector and lead a team of two HSE engineers and six HSE officers.
The team has far reaching responsibilities including:
Preparing project specific procedures and plans that cover HSE, fire safety, emergency evacuation and more recently COVID-19 protection and prevention.
Developing and maintaining elements of the health and safety management system.
Monitoring welfare arrangements, site security, permit to work systems, waste control and environmental safety.
Developing targets and plans to ensure continuous improvement of safety performance and reporting on this.
Promoting workers' consultation, award / incentive scheme and safety culture throughout the organisation.
Developing and delivering safety campaigns focussed on topics including excavation safety, COVID-19, PPE, confined space, and safe lifting operation awareness.
Preparing plans for specific activities such lifting operations, gas testing before work is conducted in confined spaces, COSHH assessments and task-based risk assessments.
Maintaining records including the risk register, legal register, chemical inventory register, environmental complaint register, near miss register and injury register.
Delivering OSH training to our own team and third parties.
Conducting inspections of our sites and vehicles and taking appropriate action to maintain standards.
Maintaining in-vehicle monitoring in line with road safety requirements.
Implementing company OSH Policy on a day-to-day basis.
Conducting internal audits and sub-contractor audits as per audit schedule and participating in 3rd party audits
What do you enjoy the most about working in health and safety?
I gain real satisfaction when our HSE targets and objectives are achieved as I know we are making the difference I hoped for when I first chose this career. To meet our targets, requires worker participation and it is so rewarding when people get what we are trying to achieve. I aim to be a shining example of HSE best practice and love to praise other workers who also choose to adopt safe behaviours.
What is next for you in terms of your personal development?
As I am working in multinational organisations, ensuring communication is effective has a big impact on HSE success. I am therefore looking to enhance my communication skills, and this encompasses learning new languages,
Having attained graduate status of IOSH I am also working on upgrading this to Chartered.
What are your long-term career aspirations?
I have signed up to complete a master's degree in occupational health and safety with a UK university, so I am working hard to achieve this.
I plan to continue to positively influence safety culture in Africa and the Middle East. When I entered this profession, my goal was to save lives and prevent suffering and this will remain my overarching focus for the rest of my career!