Because what's more important than saving lives?
Case Study: Debasis Guha - UltraTech Cement Ltd
Debasis Guha is Head of Corporate Safety at UltraTech Cement Ltd; India's largest cement manufacturer. The company produces more than 69 million tonnes of cement every year and employs around 12,000 people.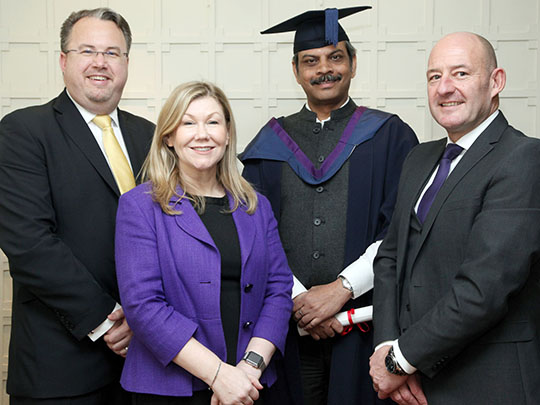 When we asked him what motivates him to succeed in his role, his answer was a simple reminder of the core purpose of any health and safety practitioner. "At the end of the day, nothing can motivate you more than the satisfaction you get by being able to contribute towards saving someone's life," Debasis told us.
He went on to explain: "Sadly I saw two horrific incidents earlier in my career as a chemical engineer with another company here in India. One was the electrocution of a helper in a welding facility and the other was a fall from height during work on a fragile roof. Unfortunately, both victims lost their lives at a very young age - under 25 years old. Both belonged to very poor families and were the only earning members of their households.
"I was shocked to see the suffering and mental trauma reflected on the faces of their near and dear ones. These two incidents had a great impact on me and changed my attitude towards occupational safety drastically."
His subsequent switch to a health and safety career in 1999 led to several years of developing and implementing health and safety and environmental management systems in accordance with OHSAS 18001 and ISO 14001. He went on to become a qualified lead auditor, gaining extensive exposure to HSE management systems during his five-year tenure at Det Norske Veritas AS as Lead Auditor of OHSAS & EMS. Debasis also took a local qualification in industrial safety as well as an MBA. However, it was not until four years ago that he decided to take his NEBOSH International General Certificate in Occupational Health and Safety, in which he achieved a distinction, followed by the NEBOSH International Diploma in Occupational Health and Safety.
"I was working for a European employer at the time and really wanted to reach a higher level of knowledge and awareness in order to push myself forwards professionally. I was looking for something with international recognition and reputation, so I chose NEBOSH."
Debasis added: "I must admit that these two NEBOSH qualifications have helped me immensely and have enhanced my confidence as a safety professional. I believe my current employer has also benefitted. Because I play a key role in a multi-unit organisation of enormous size and with operations of a complex nature, I need to have a holistic approach towards occupational health and safety. NEBOSH has widened my view as well as refining and adding value to various related standards, guidelines and procedures."
Unfortunately, after achieving his Diploma, Debasis was unable to travel to the UK for his graduation. However, NEBOSH had a surprise in store for him after he mentioned his disappointment to Stuart Naylor, NEBOSH Director of Relationship Management, at an exhibition he attended. In January 2017 several NEBOSH representatives (pictured above) were travelling to India and arranged to meet him in Mumbai where he is based. It was there during NEBOSH's International Course Provider Conference that Chief Executive Teresa Budworth presented Debasis with his Diploma parchment.
"I was overwhelmed by such a wonderful gesture from NEBOSH and didn't expect it at all," he told us. "I will cherish that moment throughout my life."
For us at NEBOSH, people like Debasis who dedicate themselves to saving the lives of others through their hard work and professionalism deserve recognition. After all, what is more important than the primary purpose of a health and safety practitioner?
How has your NEBOSH qualification helped you? Email us with your story: marketing@nebosh.org.uk.