Attaining the NEBOSH International General Certificate was a great way to enhance my practical health and safety experience
Case Study: Alok Kumar Saxena -Associate Vice President HSEQ, Enel Green Power
In NEBOSH's latest interview, we spoke to Alok Saxena, Associate Vice President HSEQ at Enel Green Power to find out about his career.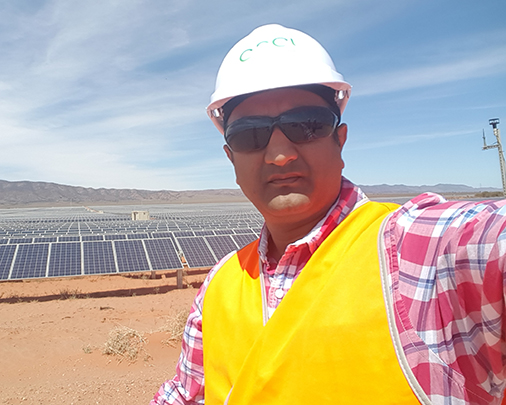 At university, you studied engineering and spent over 10 years in engineering after graduation. Did your interest in health and safety begin during this time?
After completing my degree in engineering, securing employment in this field made sense. For the first ten years of my career, I worked on heavy engineering projects, specifically focussing on the development and installation of windmills and steam and gas turbines. During this time, I was employed by large multinationals that took health and safety very seriously. Everyone knew they had to do to keep themselves and others safe and for every project or activity the health and safety risks had to be considered. Working for companies who maintained such high health and safety standards so early in my career helped me develop my interest in the discipline.
When did you decide you wanted your career to be more focussed on health and safety and how did you make this happen?
I trace this back to when I first joined global energy provider Enel in 2015; the company I still work for today. The organisation encourages its employees to gain experience in other departments. When I found out about this, I thought it provided a great opportunity to see if I should take my interest in health and safety further. Enel assessed my suitability and interviewed me before offering me a role in the HSEQ department. I found that I really enjoyed the work and have been part of the HSEQ department ever since.
I can see that you have completed the NEBOSH International General Certificate (IGC). Why did you choose this qualification specifically?
My motivation for taking the IGC was to back up the significant practical health and safety experience I had gained with a recognised qualification. I was specifically looking for something that was structured and offered a systematic approach. I chose NEBOSH specifically because it is internationally recognised and a leading organisation in the space.
When reaching this decision, I also considered my longer-term aspirations. The recognition the IGC has, opens several options for further study including the obvious clear pathway onto the NEBOSH International Diploma. For me, my IGC is the start of my formal Health and Safety training, and I know there is a lot for me to learn in future.
How did you find the course and what benefits have you gained from completing it?
The IGC covers most aspects of health and safety and does this in a very structured way. I liked that the course gives you the "Why" and then gives you the opportunity to understand ''How'' to apply what you have learnt through the practical assessment.
I thoroughly enjoyed the course and gained a great deal from completing it. It reinforced what I had learnt on the job and my success has been a real confidence boost.
You are now the Associate Vice President HSEQ for Enel Green Power. Can you tell us about the company and your role please?
Enel Green Power (EGP) India, is one of India's leading renewable energy companies. EGP is a subsidiary of the Enel Group. The organisation is dedicated to the development and operation of renewables across the world and has a presence in Europe, the Americas, Asia, Africa, and Oceania.
EGP is a global leader in the green energy sector with a total capacity of around 49 GW across a generation mix that includes wind, solar, geothermal and hydropower. It is at the forefront of integrating innovative technologies into renewable power plants.
As the Head of EGP India's HSEQ department, I am responsible for all health and safety related requirements on our construction sites, operational sites and at our corporate offices. My team and I work to ensure employees have the equipment and knowledge they need to comply with safety-related aspects in their workplace. It can sometimes be challenging to convince some workers to follow best safety practice without taking shortcuts, but it is so rewarding when you change behaviours and attitudes! Nothing pleases me more than when a project is completed without any safety breaches.
As well as having country-wide responsibilities for India, I also offer support to colleagues in other countries including Indonesia, Vietnam, and South Korea.
What do you enjoy most about your HSE career?
I find my work so interesting and rewarding. Health and safety is a great choice if you are a people person like me. Whenever a health and safety challenge is identified, I get to work collaboratively with colleagues to find a resolution. No problem has a unique solution and by brainstorming we always find a way to get things done safely, which I like a lot.
My job is to keep our people safe and well so they can return to their families at the end of the working day. If I achieve this by getting people to think differently and follow our policies and industry best practice, this is the best reward for me.
What advice would you give to someone who wants to get into health and safety?
I would encourage anyone who has a passion for health and safety to follow their dream.
Ensure you do things right, never follow shortcuts as that short-term gain can have serious long-term consequences.
Never underestimate or ignore risks even if they appear very small. Talking to people, is a great way to assess risk because you see things from their perspective. It is important to listen and acknowledge their point of view. You will show you are accessible and gain respect by putting yourself in someone else's shoes to understand a problem. When assessing risks, I also imagine it will be faced by one of my family members. If I would not accept a control measure for my family, then I will not accept it for my colleagues either, it's as simple as that!