Bright Spark Blazes through Fire Exam
Case Study: Alastair Horton - North Wales Fire and Rescue Service
Business Fire Safety Education Advisor, Alastair Horton from North Wales came top of the class for the NEBOSH National Certificate in Fire Safety and Risk Management in this year's results.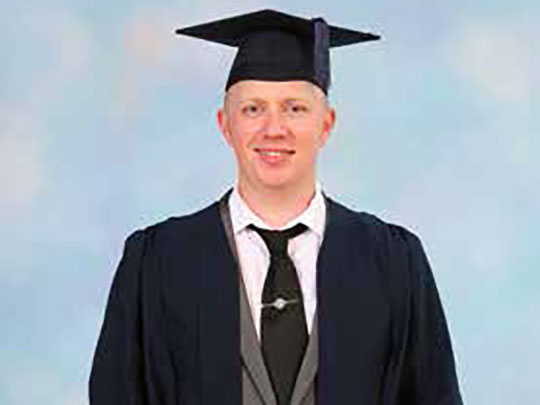 The 31 year old works for North Wales Fire and Rescue Service and inspects hundreds of companies each year to ensure their premises meet fire safety requirements. Alastair said, "I'm always open to additional learning and so I was thrilled when the fire service gave me the opportunity to take this qualification."
"I think it's very important to receive formal training in your job role. When you learn on the job it's usually through trial and error, so it was very refreshing to formalise everything I was learning. It was particularly helpful studying on day release; I found it easier to concentrate away from the distractions of day to day work-life."
Alastair has a varied work background; he previously worked at the NHS looking after medical records and also has a degree in History. He said, "I think that I was expected to do well because I'm from an academic background, but nobody expected me to come top of the class!"
Alastair was presented with the top candidate award at NEBOSH's 2013 Graduation and Award's ceremony: "The ceremony itself was superb. I always regretted not going to my university graduation and this topped all my expectations."
Not only did Alastair celebrate his distinction at his first graduation with NEBOSH, his new qualification has enabled him to do his job better.
Alastair added, "I now understand more about my own role as an auditor, but I have also learnt more about the risk assessors' role - of whom I assess. Because of this, I find it easier to communicate exactly how they need to improve, which is hopefully enabling them to ensure a safer workplace. I feel very proud to be able serve my community in this way."
"In similar job roles to mine, the NEBOSH Fire Safety qualification is an essential requirement and so I feel like I've definitely achieved career security."
Teresa Budworth Chief Executive at NEBOSH said, "It's always heart-warming to hear that our qualifications help those with such important roles in our society to do an even better job. "It's reassuring that he's putting into practice what he has learned to create an even safer community. "
How has your NEBOSH qualification helped you? Email us with your story: marketing@nebosh.org.uk