A vision for uniting Occupational Safety and Health practitioners in Uganda
Case Study: Micheal Kaggwa
"Change will not come if we wait for some other person, or if we wait for some other time. We are the ones we've been waiting for. We are the change that we seek" – Barack Obama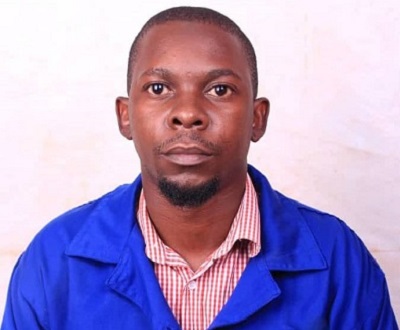 Bringing about change in your own life is one thing but helping to change the culture of a nation is something else altogether. However, this is what Micheal Kaggwa has set as his goal.
He speaks of 'preaching the gospel of safety' in Uganda, a country which has made progress in recent years but, according to Micheal, has more steps to take.
"The Occupational Safety and Health Act was introduced here in 2006 and was a major turning point. However deep cultural issues need to be addressed in Uganda if we are to build on the progress made so far," explains Micheal. "Bringing about change is not the job of the government alone. Employers and workers must play their part too by starting to see safety differently. My fellow OSH practitioners and I, through our work, can help to make this happen."
What Micheal wants is for people to stop seeing health and safety as something separate, which is bolted on at the end. Safety should instead be integral to operations. "When you are taught to drive you are instructed to fasten your seatbelt before starting the vehicle and this just becomes part of your everyday driving behaviour." Micheal explains "You don't think wearing the seatbelt is health and safety because you don't actually think of it all. Wouldn't it be great if the safety culture could shift, so everyone worked in a safe way without thinking?"
Micheal no doubt chose this analogy because safe driving is such an important consideration in his current role. He has been appointed by Uganda's leading energy business to manage the HSSE risks that occur during the supply and distribution of its fuels and lubricants. Micheal strives to help the company achieve business success through HSSE excellence and provides specialist advice and support to colleagues, develops and implements HSSE policies and standards and evaluates HSSE performance.
Micheal is really enjoying his health and safety career but it wasn't his original plan. As a teenager he had dreamed of being a doctor but studied Environmental Science instead. This course gave him his first introduction to occupational safety and health. "I quickly discovered it was about finding ways to keep people away from the doctor!" he laughs. "I had wanted to be one so I could care for people and make a difference and I realised that, through occupational safety and health, I could still achieve these goals, just in a different way. After this discovery, health and safety became my passion."
Micheal's NEBOSH studies have played a huge part in his successful career. He first heard of NEBOSH in 2012 when a friend completed a NEBOSH qualification. "He told me NEBOSH qualifications were a good choice for anyone wanting to build a career in the profession. I decided to invest in my future and took the NEBOSH International General and Oil and Gas Certificates before completing the NEBOSH International Diploma, which I passed with credit. Choosing NEBOSH really paid off for me personally and having read about the careers of other NEBOSH learners around the world I can see I am not alone."
Micheal's hope for the future is that the impact he and his fellow OSH practitioners have in Uganda can be amplified if they collaborate more.
"Right now, we have small groups of OSH practitioners who network through WhatsApp. I believe we must become more organised so together we can better influence workplace standards and raise awareness in the wider community. I am determined to play my part, and this was my motivation for creating the OSH Insight Uganda magazine." Micheal explained. "I would also love to see Ugandan OSH practitioners come together to develop some kind of benchmark for our profession and believe NEBOSH qualifications should be part of this."
It is clear from speaking with Micheal that he is not waiting around for someone else to be the catalyst for change. He has a clear vision for his country and is working hard with his fellow practitioners to make it a reality. Keep up the hard work Micheal!