A very happy accident!
Case Study: Vinoy Thomas Rajan
A career in health and safety wasn't Vinoy Thomas Rajan's original plan and he freely admits his first safety role was secured almost by accident.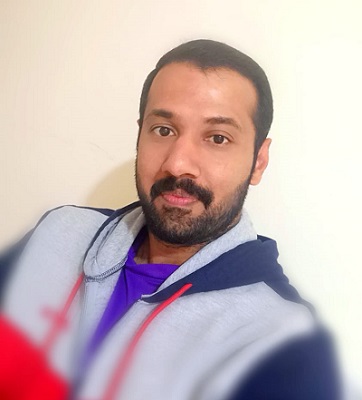 After completing a degree in Mechanical Engineering, Vinoy went for an interview with a small Engineering and Construction company in Cochin, India and was offered the chance to become its Safety Officer. Vinoy took the job and soon discovered his passion for health and safety.
Keen to learn more, Vinoy enrolled on a Masters' Degree in HSE Engineering, which gave him the opportunity to meet other safety practitioners. They all gave him the same advice:
"I was told to take the NEBOSH International General Certificate as having this qualification on my CV would open up opportunities for me in India and overseas" explained Vinoy. "I listened, took the course alongside my Masters' degree, and passed with distinction in 2011. I soon discovered my peers' predictions about the impact holding this qualification would have were right!"
Straight after his graduation, Vinoy secured a Senior EHS Engineer role for a large multi-national in India, but after two years he was ready for a new challenge. His NEBOSH qualification helped him secure employment in the Middle East where he worked for six years. For most of this time Vinoy worked for a defence organisation as its EHS Manager. He led the team of EHS professionals responsible for implementing and maintaining the organisation's management system; providing guidance to line managers to ensure HSE goals were met.
Whilst he was in the Middle East Vinoy decided to take his NEBOSH studies to the next level. He started the NEBOSH International Diploma in 2017 and passed with flying colours in 2019. This achievement boosted Vinoy's knowledge and gave him more confidence in his abilities.
Vinoy felt the time was right to move back home to India. His experience combined with his collection of qualifications helped him secure his current role as Associate Manager at Adani Gas Limited.
Adani Gas is an exciting organisation to work for. Its developing City Gas Distribution Networks to supply homes and businesses in India with Piped Natural Gas and Compressed Natural Gas to the transport sector. The organisation's overarching ethos is safety first and they employ experts like Vinoy to achieve this. Vinoy's new role is varied and covers all aspects of health and safety.
Vinoy has still got the learning bug and is making plans to start studying for the NEBOSH International Diploma in Environmental Management to further enhance his skills and knowledge.
"I can't wait to start!" Vinoy explained "I really enjoyed studying for my other NEBOSH qualifications and they, combined with my degrees, have been key to me achieving so many of the goals I have set myself in my career so far! I have got to work overseas, have worked for some great organisations and have been accepted as a member of Indian and International professional bodies including the National Safety Council India and IOSH."
Best of luck with the Environmental Diploma Vinoy – we hope you enjoy it!
---
How has your NEBOSH qualification helped you? Email us with your story: marketing@nebosh.org.uk.