A truly global experience with NEBOSH
Case Study: Sophie Rossow
NEBOSH talks to Sophie Rossow a health and safety practitioner based in Australia about her career, the profession, and the advice she would give those starting out in health and safety.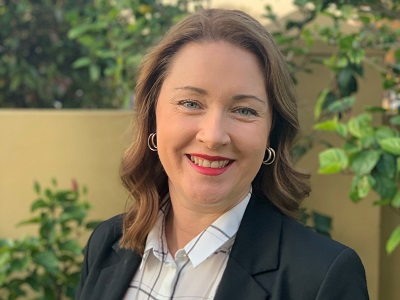 Sophie, when you originally entered the world of work you went into occupational health rather than health and safety. What prompted the switch?
After school I had originally wanted to study nursing, but my parents encouraged me to take another direction. I chose to study health science (health promotion) with a minor in occupational health and safety (OHS). I completed a post graduate certificate in occupational safety and hygiene which incorporated a few placements on refineries. This experience confirmed that an occupational hygienist role was not for me.
My first job after four years of study, was with an occupational health service provider. Ironically, I found myself carrying out a range of nursing related duties including pre-employment health tests, drug and alcohol testing and spirometry testing.
After a year watching injured workers visiting doctors, physiotherapists and rehabilitation consultants (psychologists) I decided I would put my studies to good by trying to prevent accidents from happening.
What was your first health and safety role?
My university studies and experience helped me get my first OHS opportunity in the heavy construction industry in 2002. I immediately felt I had found my tribe! I had enjoyed working with doctors and allied health professionals but working with engineers and construction workers just blew my mind. Every day was dynamic, exciting, challenging and rewarding. Even when I was living in camps and working 10-hour days with a 26 days on and 4 days off shift pattern I still loved it.
After working for nearly 6 years for an Australian construction and rail contractor you set up your own company. What prompted this move, and did you enjoy being your own boss?
At the end of 2007 I identified a niche in the market for a specialised, boutique OHS consultancy that could offer clients the experience and expertise of a large firm but with the speed, flexibility and value of a boutique practice.
Creating my own OHS consultancy enabled me to work more closely with my clients to deliver real and valuable OHS solutions for their businesses. I was also able to cherry pick like-minded OHS professionals to work with me in building my business working on Tier 1 Contractor and State Government projects.
Establishing my own business and riding the "boom" in Western Australia was a very exciting and rewarding experience.
You have just spent 3 years in the UK. Did you discover NEBOSH during your stay?
My family and I were temporarily based in the UK due to my husband's work. When we were settled, I started to look for work and contacted a colleague who had been based in the UK previously. He advised that completing NEBOSH qualifications would help me succeed.
I knew the key to finding a job was to build my network, so I wanted a classroom course. My research led me to BV Associates. As I was finishing the construction certificate course my husband was called back to Australia.
However, I had caught the NEBOSH bug and took the International Oil and Gas Technical Certificate next. I started studying the course before I left the UK and completed it online with RRC International, taking the exam in Perth, Western Australia. I thought this was amazing – it really was a global learning experience!
Did you find the NEBOSH qualifications you took useful and enjoyable?
Yes. I have a Masters in HSE so the national certificates provided a very useful refresher and introduced me to local laws, and nuances of OHS in the UK. The courses were very inclusive. We all shared stories and learnt from one another. The instructors were really welcoming and extremely professional and created an enjoyable learning environment.
How are NEBOSH qualifications regarded / recognised in Australia?
Generally, NEBOSH is not widely known in Australia, but the recognition is greater in global companies and those operating in particularly high-risk sectors. On my return to Australia, I was approached by one of the world's largest train manufacturers for an EHS and Rail Safety Manager role. As it is a global company my office in Perth is very international. There are many managers from the UK and a few who have worked in the Middle East. My company and colleagues recognise NEBOSH and understand and respect the standard I have achieved. I think my NEBOSH qualifications gave me the edge over local talent.
What do you like and dislike about working in health and safety?
When you are setting up a new project and there are many activities to organise simultaneously, it can be stressful. However, it can also be very rewarding; especially when you see all the planning being implemented and your hard work arranging and influencing people has paid off. I love knowing my efforts make a difference and keep colleagues safe.
What advice would you give someone who is considering health and safety as a career?
Figure out your personality style early in your career, work on your weaknesses and hone your strengths. The career options are so diverse so try out as many industries and roles as possible until you find a job you love.
---
How has your NEBOSH qualification helped you? Email us with your story: marketing@nebosh.org.uk.