A passion for systems: 'How else should we live?'
Case Study: Khotso Mabanga
Ask a health and safety professional what they love about their role and most will mention things like 'making a difference', 'no two days are ever the same' and 'keeping everyone safe from harm.'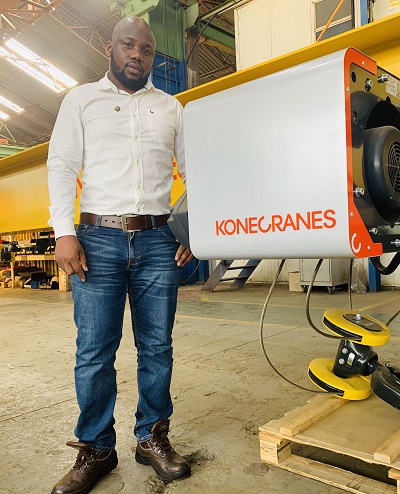 While all these things certainly play a part in Khotso Mabanga's dedication and passion around health and safety, there is another aspect he highlights which we haven't heard others mention before. Clarity and order!
In his role as Industrial Service SHEQ Manager for Konecranes in South Africa, Khotso also acts as internal SHEQ auditor for all the branches in South Africa. He told us: "One of the aspects of my job I love is ensuring that ISO standards are being implemented across our whole supply chain. This sees me audit our suppliers, clients and Konecranes departments and branches across our network of sites. By ensuring we all work to the same standards and systems the potential for inconsistency is removed as everyone knows what they need to do to ensure we operate safely."
Now you would be forgiven for imagining that Khotso's passion for order and systems comes from having a strong engineering background. However, his structured and highly configured way of doing things, lies much deeper than that. "I got it from my Mum," he told us. "She is a very smart person and growing up everything was very organized. So as a child I saw everything around me operating well, everything was simple, without conflict or confusion, like a well-oiled machine."
Khotso's interest in health and safety began in his first job when he was employed as a Fitter and Turner Artisan within the mining industry. At the same time, he studied Machine Shop Engineering.
"In my first job, I saw that accident investigations were rarely led by those with technical understanding. There was a tendency to blame the machinery if someone was injured whilst working with it. Anyone with any insight into engineering would know this was rarely the sole contributory factor. For me, this presented a loophole, and so I decided to close it by broadening my engineering knowledge to include health and safety. Everyone I spoke to about my ambition kept telling me 'NEBOSH, NEBOSH, NEBOSH', so that was the path I followed."
After passing his NEBOSH International General Certificate and securing a health and safety role, Khotso went on to take both the NEBOSH Occupational Health and Safety and Environmental Management Diplomas, which in turn helped him secure a SHEQ management role. "My new manager loved NEBOSH, so I walked straight into the role."
Khotso has gone on to gain several other qualifications, including 45001, 14001 and 9001 lead auditor certifications and most recently achieved a distinction in the NEBOSH International Technical Certificate in Oil and Gas. He is now studying for a Masters degree, focusing on exploring the challenges faced by SMEs in implementing ISO management systems.
"I'll be honest, the combination of my studies and experience have made me feel like when I go for interviews, I will always get the job," he laughs. "It's inspired several of my friends and colleagues to follow the same path, and while part of this has been because of my career success, I'd also like to think they've picked up on my passion for systems and safety." Khotso ended with a chuckle, adding: "I also love to talk, and systems and safety is something I talk about a lot!"
How has your NEBOSH qualification helped you? Email us with your story: marketing@nebosh.org.uk.